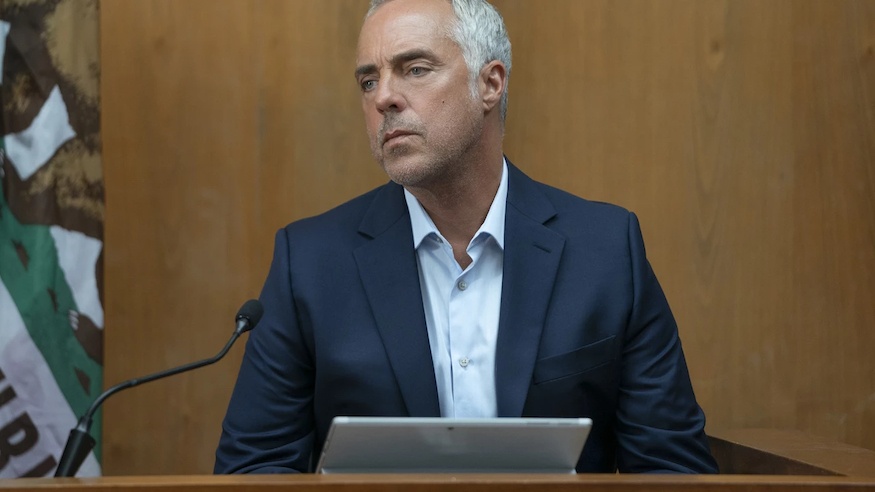 The first trailer is out for IMDb TV's new Bosch spinoff, entitled Bosch: Legacy. And we have a launch date too – 6 May, so not too long to wait for a double dose of the Bosch dynasty.
Bosch: Legacy begins where season seven of Amazon Prime's Bosch left off. LAPD veteran detective Harry Bosch (Titus Welliver) has retired from the force and is starting a new career as a private investigator. Meanwhile his daughter, Maddie (Madison Lintz), is stepping straight into her Dad's shoes as a rookie patrol officer.
Lintz provides a telling voiceover on the new promo: "When my dad quit being a cop, it made a lot of noise. Sometimes the system fails, but his code never has. And that's why I want to follow in his footsteps."
Mimi Rogers is back as attorney Honey Chandler, forming an unlikely alliance with Harry, while new faces include Stephen A Chang as Maurice 'Mo' Bassi, a tech whiz who assists Bosch and shares his love of jazz; Denise Sanchez as Reina Vasquez, Maddie's no-nonsense training officer; David Moses as Martin Rose, a local civil rights icon and mentor to Chandler; and William Devane as Whitney Vance, an ailing billionaire who hires Bosch to investigate whether he has an heir.
Welliver told Entertainment Weekly: "I shudder to call it a spin-off because it's really not; it's just the continuing saga of Harry Bosch. He's in a different place, but it's a continuation."
The first 4 episodes will be streaming on 6 May, followed by two episodes on each of the following three Fridays. Season one continues some plot lines from season seven of Bosch, and pulls certain elements from Michael Connelly's novel The Wrong Side of Goodbye.
IMDb TV is a streaming film and television service which is free via the Amazon Prime Video and Google Play apps.
You can catch up on Michael Connelly's Bosch series of original novels here, and on Amazon's adaptation of them here.