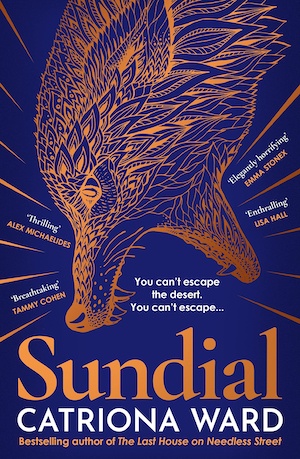 At first glance, Catriona Ward's new novel ticks all the boxes for standard domestic noir, but it has more to it than that. In a perfect suburban California setting lives a couple with two lovely young daughters, but of course things are not as they seem once you look beneath the deceptively tranquil surface. There's an unfaithful and controlling husband, an abused wife and a daughter who talks to imaginary friends and collects the bones of small dead animals… What seems like a domestic thriller at first turns out to be something with a more terrifying flavour.  
If you remember the jaw-dropper Ward casually delivered in her crime debut, The Last House on Needless Street, then you're in for another round of subterfuge.  
Right, back to the unhappy family. Rob suspects her husband, Irving, is having an affair with Hannah, the neighbour who is Rob's only friend. But infidelity is the least of Rob's problems. Her eldest daughter, Callie, has been collecting animal bones and she has a strong suspicion the creatures did not die peaceful deaths. And everyone knows children who kill animals sometimes move up the scale when they become adults.
When her younger daughter, Annie, overdoses on pills, Rob suspects Callie. This troubling behaviour, particularly Callie's conversations with non-existent people, is all too familiar. She has lived through it before and knows its devastating effects.
When Rob gruesomely describes a bowl of maggots Irving left on the kitchen counter to be used as bait, it's our first warning of impending horror. Mere minutes later she is trying to get away from Irving. She has been in the same situation before, and this is driving her fear.
In an attempt to keep Callie away from her younger sister, Rob takes her to the desert – to Sundial, in the Mojave Desert, where she grew up and left her old self behind. Sundial isn't your typical farm and Rob and her fraternal sister, Jack, didn't have a typical childhood. Falcon and Mia, the eccentric, hippie scientist couple they were raised by believed in alternative parenting and saw their children as experiments, rather than human beings. Their children weren't the only guinea pigs; 30 dogs and a coyote were also kept on the farm. 
Ward describes the land surrounding the remote farm in the desert as brutal, a hungry animal waiting to be fed. The desert consistently remains a predatory presence throughout, much like the dogs Falcon and Mia, domesticated for their own purposes. Even though they were fenced in and controlled they could still be dangerous. The farm itself was enclosed by miles of fencing, resembling a government facility. We know there's a darkness lurking and critical information withheld, but Ward only feeds us a morsel of information at a time.
As much as Rob is worried about Callie's mental well-being, Callie is convinced her mother might be losing her mind and potentially dangerous. This idea is planted by Irving who will do anything to undermine his wife. If he's not threatening to leave her and take the children, he is playing psychological games and using her weaknesses against her. It's inconceivable why Rob stays with Irving, enduring his cruelty, but the details of their past are revealed piecemeal and in good time.
While at Sundial Rob tries to explain the reasons for her concern to Callie. Through their conversations and Rob's recollection of events, a picture emerges of a severely dysfunctional family with many secrets. Ward successfully sends us from one assumption to another, confused as to who or what poses the real danger. It's this ceaseless feeling of being on edge and on unstable ground which heightens the suspense.
Sundial's desert setting undoubtedly complements the suspenseful plotline, but equally terrifying are some characters. When Rob hears Irving's voice it sends a chill down her spine and when she doesn't hear him approach, she observes that he has always had the ability "…to stand perfectly still as though no breath moves in him", an uncanny characteristic for any living being.
Callie seems disconnected and unemotional, speaking in emoticons rather than expressing emotions. But when she screams Rob equates it to the growling of a big cat, starting low in her abdomen. Irving and Callie take on predatory characteristics and the primal side of human beings is, ironically, more prevalent than the tamed animals in the story.
Ward turns domestic noir on its head and creates a full-on psychological thriller-horror with a grand finale in the desert to match. If there was any doubt that expectations would be met after The Last House on Needless Street, Sundial certainly proves they were unfounded.
If you like your crime fiction with a pinch of horror, try When Things Get Dark, an anthology inspired by Shirley Jackson.
Viper
Print/Kindle/iBook
£14.99
CFL Rating: 5 Stars