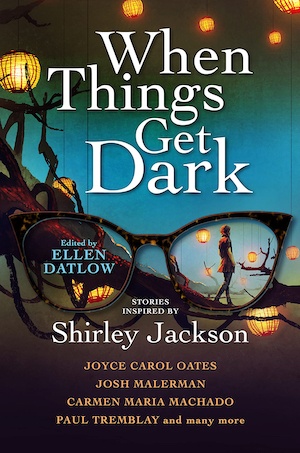 Edited by Ellen Datlow — In 2018, when Netflix released The Haunting of Hill House, a whole new audience was introduced to renowned American horror and mystery writer Shirley Jackson's work. Although the series is based on one of Jackson's six novels she was best known for her short stories – 200 written over two decades. When Things Get Dark is an anthology edited by Ellen Datlow, which pays homage to Shirley Jackson through an impressively hair-raising collection of stories inspired by her work.
Featured in the anthology are stories by big names such as Joyce Carol Oates, Josh Malerman, Carmen Maria Machado and Stephen Graham Jones. But if you look past the well-knowns there are some gems worth exploring by equally established, award-winning writers such Paul Tremblay, Richard Kadrey, Elizabeth Hand, Kelly Link, Cassandra Khaw, Karen Heuler, Benjamin Percy, John Langan, Laird Barron, Jeffrey Ford, M Rickert, Seanan McGuire, Gemma Files and Genevieve Valentine. Apart from their love for crime and horror, the authors in this anthology have one other thing in common: they are skilled at weaving an intricate tale and tying up its loose ends in impressively few pages.
According to Ellen Datlow she wanted contributors to the anthology to "…distil the essence of Jackson's work into their work, to reflect her sensibility. To embrace the strange and the dark underneath placid exteriors." Much like Jackson's stories those included here have elements of the supernatural, domestic violence, revenge and also the required things that go bump in the night.
In Karen Heuler's Money of the Dead the inhabitants of a residential building are left money by their doors and given the choice of having people from their pasts resurrected. What seems like an opportunity to rectify regretted mistakes into a nightmare for Laura who pays to have her young son back. The rest of the group also realise that getting what you wished for isn't always what you imagine it to be.
Hag by Benjamin Percy tell the story of a journalist and her young daughter stuck on a hostile island where the locals perform strange rituals to prevent a water witch from taking their lives. All the elements are there for a suspense horror – a mad, ranting, old woman, an inn on an island, creepy totems of gulls and a thoroughly unsettling atmosphere.
Not all the stories are tinged with the supernatural, some are firmly based in reality. Joyce Carol Oates' Take Me, I Am Free, deals with postpartum depression and a mother's belief that there is something wrong with her four-year-old girl. Oates' tale proves that reality can be substantially more disturbing than anything your imagination can conjure up.
In A Trip to Paris by Richard Kadrey, a woman poisons her family only to be haunted by them in a most tangible and visible way. Despite her attempts to eradicate their ghosts from her life, they keep on resurfacing, making it impossible for her to escape the small town she lives in and its conservative inhanitants.
Josh Malerman's Special Meal is set in a family's dining room in an alternative world where maths is forbidden, and children are punished for showing an interest in or knowledge of the subject. Malerman, also the author of Bird Box, takes a normal family dinner and turns it into something ominous, seeping with tension.
It's impossible to pick a favourite, but Skinder's Veil by Kelly Link is certainly among my top three. What initially seems to be a simple tale of someone housesitting a remote cabin as a favour to a friend turns into a modern fairy-tale with magical realism elements. You might reconsider house-sitting after you read about this special house owner.
Compiling a short story anthology that caters to a wide audience's taste is no small feat. Ellen Datlow has done a brilliant job of curating a selection of stories which are not only varied in style and topic, but of high quality. Whether you prefer your creepiness level at one or eleven, with a good dose of blood and gore or just with a hint of psychological suspense, you will find a favourite which appeals to your taste in this collection.
If you have always been an avid Shirley Jackson reader, When Things Get Dark will provide just the fix. And if you are unfamiliar with Jackson's writing the anthology might just pique your interest and open up the Jackson-verse for you.
If you enjoy short stories, particularly those with a creepy twist, also try Afraid of the Shadows, an anthology of crime stories inspired by Halloween.
Titan
Print/Kindle/iBook
£13.40
CFL Rating: 5 Stars