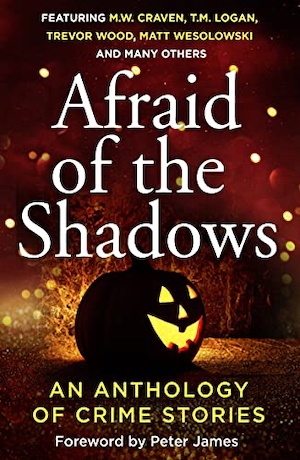 Edited by Miranda Jewess — This anthology of 19 brand new tales on the theme of Halloween comes from some of the best-loved contemporary British and Irish crime writers. It's the third in the Afraid of the Light series and all the books have been published in aid of good causes. This time, donations go to Barnardo's Children in Crisis Appeal. For crime fiction lovers, it's an excellent way to sample some of the most important voices in contemporary crime fiction, exciting stories and original writing. This is a fresh, challenging and innovative collection.
Peter James's introduction notes the challenges of the short form: every word has to count, as a moment, a feeling, a snapshot in time is captured. The writers here deliver. MW Craven opens with a witty Poe and Bradshaw short story and the collection is capped by a chilling tale from TM Logan. Between these bookends the contributions range from outright scary to funny and quirky but always with a creepy Halloween feel. It's intriguing to see how a common theme sparks such diverse responses from different writers.
Take MW Craven's Strange Ink, for example. Every year on Halloween night the police raise money for a children's charity by organising a fancy dress parade through the streets up to the local home. This year doesn't quite go as planned. It all kicks off when DI Stephanie Flynn and Tilly Bradshaw gang up to prevent DS Washington Poe going as Elwood Blues again. Dark suit, hat and glasses do not constitute fancy dress in their opinion. So the street party is in full swing and Poe is wearing a horse's head, one half of the pantomime costume courtesy of Bradshaw. Then something attracts his attention. Still in equine disguise he entered a house following a trail of blood to a door after spotting a dog enthusiastically licking up droplets on the pavement outside. The story opens with Poe explaining to a couple of HQ bods what happened. Craven's barbed little farce, with its nod to the cause behind the book, sets the mood perfectly – a celebration of all things creepy, with thoughts of children always present.
Trevor Wood dives into the darker side of Halloween, one of those times of year that expose our loneliness. With a tale of longing and desire, Mirror Mirror is Ruby's story. She so wants the old wives tale to be true. When an unmarried woman stares into a mirror on Halloween night she will see the face of her future husband reflected. Then she heads out for the night. There's a nice little twist in this edgy tale.
Also partially themed on loss, Hidden by Victoria Selman reminds us how much the mundane, ordinary things in life can set us off, conjure a memory or trigger an emotion. The man misses Alice so much, he thinks about her and what happened when she died as he sets out a bowl of sweets. In another house a boy gets ready to trick or treat, he tells his mum he doesn't need his dad of go along with him as chaperone. He's 13 after all.
"I promise I'll be careful. Please, Mum. Don't make me the odd one out."
The man, who blames the boy, is expecting him to come out the door soon, a sense of menace and anticipation of something nasty builds in this tale. Hidden reflects on grief, parental angst and our fear for the living.
Jo Furniss' Uninvited takes place at a Halloween party and is a creepy empathetic tale riffing on the vulnerability of young people having to navigate the complications of the modern technological world. The narrator in this one thinks the anonymity of the Yeti costume will allow him to get away with his plan for revenge, but it won't go smoothly. This is a creepy troubling tale. While Nan by James Delargy takes us into the world of the very young. It's told from the perspective of a precocious five year old. Did Mum and Dad really bury Nan in the garden as she told Mr Yarrop in class today? The inchoate understanding of the child is both funny and chillingly opaque. The Dark Without by Kate Simants sees two girls hell bent on getting revenge on their abuser, it's haunting and poignant. Phoebe Morgan, Matt Wesolowski and Dominic Nolan all have intriguing and original tales and TM Logan, appropriately the last here, riffs on a more traditional tales of the unexpected. It will leave you wanting to keep the lights on as it's loaded with danger and a tricky swerve from the light to the dark. You have been warned.
Not all the stories are as sharp and original or as funny/creepy as these but none lets the side down. Each is entertaining and on point, the focus is on children, but in a myriad of different ways. If you like your crime with a spooky edge tinged with a drop of humour there is plenty for you in Afraid of the Shadows. The cause is worthwhile, but it's because this collection is well written and entertaining that we would recommend it. Five of the stories from the previous two Afraid of the Light anthologies were short listed for the CWA Short Story Dagger in 2021, which shows how well regarded these anthologies are. It wouldn't be a surprise if some of these are similarly lauded in the future. Why not enhance your Halloween night experience with a few sinister tales from this confection?
The Criminal Minds Group
Print/Kindle
£1.99
CFL Rating: 4 Stars