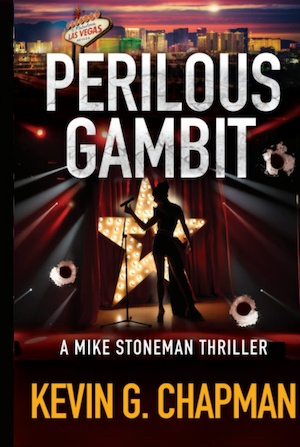 Detectives Mike Stoneman and Jason Dickson are as New York as a hot pastrami bagel, but one of the great things about Kevin G Chapman's series of books featuring the pair is that they tend to get about a bit. In Lethal Voyage, we had them in the midst of chaos on a cruise ship; now they're in Las Vegas.
So what brings them to the world of bright lights and gambling? Well, Jason and his fiancée Rachel are about to get married there, and Mike and his girlfriend Michelle are to be the witnesses at a low-key event. Before the Big Day, the four of them are planning a week of fun and relaxation, away from the stresses of work. Fat chance – because as fans of this series know only too well, trouble follows Mike and Jason wherever they go, and this trip is no exception.
Before they even step on the plane, Chapman carefully begins laying the foundations of what is about to unfold. A senator is killed in South Dakota, then the FBI circulates a photograph of three showgirls with a man whose face has been edited out. Police around the country are asked if they can help identify the girls – including the NYPD – but the call out garners no new leads.
Over in Vegas, mobster Freddy Costanzo is being blackmailed, and he isn't happy about it. He's so unhappy, in fact, that he has his lieutenant Rick 'The Neck' Garetti on the trail of the blackmailer. As we first meet Rick, he is covertly looking out for the person in question after dropping off $100,000 at the chosen location. It all goes horribly wrong – the cash is gone, and there's no sign of the blackmailer either… We're beginning to get our measure of these gangsters.
An angry Freddy is a dangerous Freddy, and it's as the body count begins to rise that Mike, Jason, Rachel and Michelle arrive in Vegas, ready for some R&R.
Rachel's brother Jackie is a drag queen called Belle de la Pomme, performing in glitzy shows at The Birdcage Theatre. The friends have front row seats to see a performance – and Rachel is surprised to see her sibling in the starring role. Mimi LaRee is usually the star of this show, but it soon becomes clear that Mimi is missing. She's later found dead, the second girl to die in a matter of days.
It seems that somebody has decided to target Vegas showgirls and local detective 'Buzz' Rickenbacker has Jackie firmly in the frame. He's innocent, but nothing that Mike or Jason say can change Rickenbacker's mind. No surprise, because Rickenbacker is as bent as a corkscrew and in the pocket of the local criminals – police corruption, mob violence and homophobia all come into play as the plot thickens.
Perilous Gambit is a well constructed story, with dark themes that are brightened by smart flashes of humour and the back story of Rachel turning into Bridezilla, desperately trying to get her wedding organised as things keep going wrong. This is book five in the Stoneman series and author Kevin G Chapman has really found his stride, with all four main characters now fully formed and engaging. So much so that you might feel you know how they'll react to any situation – but there are surprises in store so don't be too sure about that.
After months of being stuck at home, it feels good to 'travel' to Las Vegas in this one, with Chapman working hard to create an authentic sense of place, from wedding chapels to poker games. An entertaining caper to keep you company through the long nights of winter. More please!
Sin City also features in Chris Ewan's The Good Thief's Guide to Vegas.
Self-published
Print/Kindle
£2.24
CFL Rating: 4 Stars