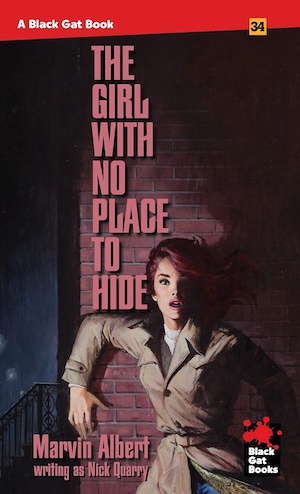 A fast-paced, New York-set hardboiled classic that keeps you guessing to the end, The Girl with No Place to Hide is the third in Albert's Jake Barrow sextet written under the pseudonym Nick Quarry and originally published in 1959. Hardboiled is usually tight and to the point with few wasted words or superfluous scenes but this is a masterclass in lean and mean. And yet, this is a layered story too, the action constantly ratchets up and the twists keep coming. Albert knows how to jamb his private eye between a rock and a hard place and then pile on the pressure.
Jake is in the backroom of the Oran Club with fight promoter Steve Canby getting a private show from Steve's girlfriend Cecile, who is running through her routine on the stage. They chat a little about the upcoming fight – Canby is confident his guy will win. Cecile is off to Havana and he's planning on joining her after the big showdown at the Garden. The lovers head off for a meal so Jake, a little lonely, wanders back to the main bar. His head is turned when the door opens and a beautiful woman slips in. Angela has Jake's attention but she's looking for Steve. When she finds he's already gone she walks back out. That's Jake's cue to call it a day but as he climbs into his car outside he sees Angela being throttled by a hulk of a guy. Jake ploughs in and nearly gets himself battered before a dirty trick or two swings it in his favour and he and Angela can flee.
At his apartment Angela asks to stay, undoing her blouse so Jake is clear what she's prepared to pay for the night. Jake won't stoop so low but he's a private detective so maybe he can help her. Angela says they got Ernie and she's next but before he can find out more he gets a call offering him a job. It's worth $200 but he has to get across town immediately. He can't afford to pass it up but it turns out the call was a set up to get him out of the way. So naturally when he gets back Angela is gone. There's nothing to do but sleep on it. Next morning the paper carries a graphic photo of a man with his head bashed in by the name of Ernest Lewis. Coincidence? Not likely.
Jake calls on Ernie's secretary Nell Tarey. She doesn't know Angela and says that Lewis, a commercial photographer, was on the up and up. However, as Nell is leaving the office someone tries to run her down and if it wasn't for Jake being there she'd be dead. Jake takes Nell to a hotel for her safety while he goes in search of Angela, occasionally popping back to hold Nell's hand. It's not long before another body drops and Jake finds himself in the thick of it with no idea what is going on. There's more than one person protecting a secret as Jake trawls the boxing and fashion worlds of 1950s New York, discovering how the other half live and running into blackmail, double cross, torture and murder.
This is a tale that loves dangling tropes in front of us and laying out familiar plot lines before flipping and manipulating them, making it tough to second guess what's really going on. There's a colourful cast of characters, including the giant heavy who won't stay down, a femme fatale who eats men for breakfast, a less than grieving widow with a hansom boy/man on a chain, a nice girl from the sticks who can stand up for herself and a psychopath who gets upset when people cross her brother. They're all nuanced and add a little pepper to the plot which is non-stop.
This is clever enough to keep you going to the final reveal with a bundle of questions rattling around in your brain. The dialogue is crisp, particularly between Jake and Nell, and there's a touch of romance and humour there as well as some thinly veiled double entendres – something for the Hays Office to miss had the book every become a film. Marvin Albert is perhaps better known as the writer of the Tony Rome series.
Also see A Man Named Doll by Jonathan Ames or Cut Me In by Ed McBain.
Black Gat
Print/Kindle
£3.63
CFL Rating: 5 Stars