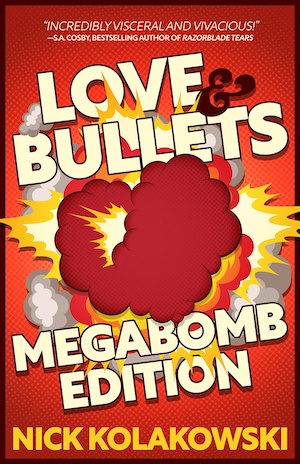 Good gonzo noir is a perpetual car crash; one bone-crunching, metal-shredding impact after another and Nick Kolakowski's pulp fiction upholds that tradition. Meet Bill and Fiona. Don't let their ordinary names fool you, they are the harbingers of chaos. Where they tread, and they tread far and wide, devastation follows. Short of starting World War III this pair and their multiple and various would-be murderers get into every kind of crash, bang and wallop you can imagine. There are few pauses for breath in this tale of heist, betrayal, revenge, murder with added explosions, hence the title.
The mayhem begins with a New York hitman regaling toe curling stories of his prowess as a stone cold killer. He's the worst nightmare of anyone who makes his to-be-actioned hit list. His latest job is Bill because Bill fell foul of the Rockaway Mob, the boss taking exception to the theft of his unlimited credit card.
In addition to $100,000 Bill gave to a children's charity and $50,000 for a bottle of Chateau Margaux at a restaurant, Bill took $3 million for himself and split town. So the charity part wasn't exactly a Damascene conversion. By the time he's heading for Texas to meet a contact with a view to leaving the country for more obscure sunny climes, Bill gets a call. The guy who helped him steal the money is already unpleasantly dead and the hunt for him is on big time. Of course, Bill's plans are now out the window and honestly he's not so great on the hoof. Bill places his trust in the wrong people and everyone from the bar tender to local corrupt cops wants the money, not to mention that the assassin from New York is on his tail.
Time for a little fill in on Bill's past and how he got to this stage in his life. He went off the rails pretty early in life and never saw the straight and narrow again. And, of course there's also Fiona, a wrecking ball in her own right. Along the way Bill and Fiona make alliances and enemies, in Cuba, Nicaragua and home again in New York and all with the Rockaway Mob one step behind. The pair are wounded and tortured, survive crashes, explosions and flying bullets… but can it last?
Did I mention killer Elvis or the old fella James who didn't like to take prisoners during WWII?
Love & Bullets, from the author who brought us Boise Longpig Hunting Club and Rattlesnake Rodeo, is a blend of wickedly black humour and psychedelic, hyperreal violence that reflects on the absurdity of life's grimy parade. When all is said and done, the human beast is a strange thing. This tale has elements of that blind truth.
Kolakowski grew up on Spillane and Chandler and via Jim Thompson has come up with his own brand of madcap bullet play. And don't forget love, that's here too. Love and Bullets: The Megabomb Edition was originally three novellas published between 2017 and 2019 – A Brutal Bunch of Heartbroken Saps, Slaughterhouse Blues and Main Bad Guy. They've been collected and revised, with a new ending created for this single edition. There are times when the joke is stretched, it could be tighter, but Love & Bullets rarely loses its energy and when it does the batteries quickly recharge. There are passages of sublime pulp writing, the opening is a proper hook and there are plenty of laugh out loud moments too. For page turning fun this up there.
Also see The Price You Pay by Aidan Truhen or Man of the World by Paul D Brazill.
Shotgun Honey
Print/Kindle
£
CFL Rating: 4 Stars