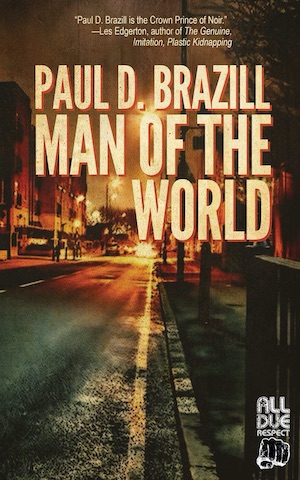 Brit grit author Paul D Brazill follows his 2018 novella Last Year's Man with a return to Seatown, where we pick up the continuing story of hitman Tommy Bennett. Perched somewhere on the Northeast coast, Seatown is cold, wet and windy, the kind of place that makes your joints ache as you acquaint yourself with an ageing gangland killer who seems to have spent half his career on the verge of retirement. But what sort of pension do you get after years of shooting, stabbing, stamping and generally evading anything resembling a normal life?
Having returned to Seatown from London, Bennett meets an ex-bank robber called Dusty Binns down by the seafront and carries on plying death across eight sequential short stories spanning Northeast England, London, Spain and Poland. He starts by exacting revenge on the man who took Dusty's woman from him years ago and didn't treat her well. Then he undertakes a rescue mission for a woman called Nadia and tries to extract her younger sister from the clutches of a strip club owner. After that, he sorts out some business for the woman running the strip club too, calling in help from the beefy barman at his regular.
In between times, Bennett drinks heavily and talks about giving up, particularly after bouts of spitting blood into the sink the morning after. To be fair, he does ease up on the booze as the book goes on. Gradually, a wider picture unfolds of Bennett's rotten world and we find that he is far more than a regional psycho. He has a café down in London, where he was an East End operator and also did some work for an off-the-books department of MI5. Heading back to his café to see how it's doing, Bennett partially foils somebody else's hit. Two very peculiar MI5 agents come calling again, and end up pointing him towards one of his ex-wives who's now in Spain and off he heads to Madrid.
And so you get the picture – a bit like real life, Man of the World has no overarching storyline, it just snakes along. Bennett is way beyond having a career plan, he goes with the flow and if there are loose ends with one job he either lies low or runs, and picks things up again somewhere else. It's a book full of strange, damaged characters, who are interesting to meet but have few virtues. Most are as cynical as Bennett. Some of his clients want to take part in the killings themselves. This isn't a book about hopes and dreams.
Bennett's first person narration is spot on. He's perceptive and fills each page with dry and often hilarious commentary, taking in everything from politics to pop music, social order and criminal disorder. Paul D Brazill excels at dialogue too. Cold fatalism is as evident in the conversation as it is in the violence. Tommy Bennett is an efficient worker most of the time. Killing is a job to him, just like bookkeeping, driving a bus or selling cars.
With the author's ability, it's disappointing that there isn't a bigger story driving Bennett's journey, something to keep you engaged, make you wonder whether he'll succeed or fail and want to find out what happens next. That's not to say Man of the World has no meaning. There's a strong theme here and it's one of Paul D Brazill's favourite topics: fading glory. Tommy Bennett, like Seatown, like his colleagues and counterparts, like Britain itself, is staving off the inevitable… and he knows it.
Man of the World joins a whole range of pulp crime fiction covered on our site.
All Due Respect
Print/Kindle
£2.41
CFL Rating: 4 Stars