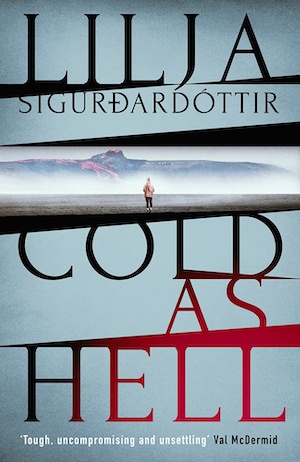 Translated by Quentin Bates — Multi-award winning Icelandic author and playwright Lilja Sigardardóttir really grabbed our attention with her Reykjavik Noir trilogy. Snare, Trap and Cage are perfectly encapsulated noir stories about ordinary people caught up in the underbelly of Icelandic society. Yet when you read them together they bleed into each other. As new connections are made they reveal more depth and unseen facets of the stories are opened up to us. It's exhilarating to discover new layers to a story you thought resolved. As Cold as Hell is the first in a new quintet of novels, we have high hopes that Lilja can repeat that feat of unpeeling additional layers over time while still telling a satisfying story. Judging by this opener to the Áróra Investigation series we are off to a cracking start.
This is a tale of two sisters, always at odds as youngsters then separated from each other over time as they go their own ways. However, when one disappears the other begins a desperate search for her sibling and uncovers a world of dark secrets. The author is an excellent plotter with a profound understanding of human frailty, the emotional and familial ties that bind us and our tendency to get out of depth. In this case, slipping down the echelons of a society that seems so ordered and safe on the surface but is treacherous and corrupted underneath. This is an intelligent and emotionally rich novel. From the telling little details to the big picture she creates a gritty and realistic world.
The disturbing but exquisitely down played opening scene follows a man draggling a suitcase across a lava field outside the city. Partially unzipped, a hand falls out of the luggage, an engagement ring is evident on one of the cold pallid fingers, he daren't think of her beautiful face now decaying but he mumbles 'I love you'. Now he knows he can kill.
Áróra and her mother live in the UK, they keep in touch by phone. There's a quiver in her mum's voice as she explains that Ísaford has gone missing in Iceland. Áróra's sister is not answering her phone, her partner Björn is not returning calls either, it's been two weeks. The two sisters have a difficult history and recently Ísaford blocked Áróra on Facebook. Their estrangement is largely the result of Ísaford's relationship with Björn. Her partner never liked Áróra or the way she suggested Ísaford should stand up to him. There would always be an excuse for an injury and no matter how distressed Ísaford was she would always go back to Björn, because she loved him, leaving Áróra frustrated.
Áróra wants to put her mother's mind at rest and dismiss the uneasy feeling she has in her belly, so she goes to Iceland to check on her sister in person. The siblings are half-Icelandic but after they left the island with their mother Ísaford chose to go back and make a life there. Her mother thinks Áróra is a detective because she's an investigative accountant so is well suited to find her sister anyway. Tracking money is one thing but hunting a missing person quite another.
On arriving in Reykjavik the first thing Áróra checks is the hospital. Fortunately, Ísaford has not been admitted recently. So where is she? Björn, her abusive drug-dealing partner is peddling the story that Ísaford left him and returned to the UK and his family appear to believe that story. It just doesn't ring true, though. Áróra knows Ísaford would never leave Björn. While she's figuring out what to do next, Áróra meets Hàkon Huksson, a millionaire with a tainted reputation, and becomes curious about him, vaguely aware of the financial scandal in his past. She likes him but can't resist investigating his money.
Áróra then brings in her policeman uncle, Daniel Hansson, into the search for Ísaford. She talks to neighbour Olga, who is not keen on getting involved because she has a secret of her own to protect. It must be Björn. Fearing for Ísaford's life, Áróra begins watching him only to realise that she's not the only one.
The writing is intense, taut and spare, the plot lines intriguing and involving. The complexity of the characters brings a bitter tale of ordinary lives blighted by crime alive. In Cold As Hell, Lilja Sigurdardóttir is asking how much control we have over the things that happen to us, and how well we can hang on to the vestiges of decency in a corrupt and corrupting world. A perfect blend of social critique and jaw dropping thriller.
Read our interview with the author from 2017, when Snare had just come out in English.
Orenda Press
Print/Kindle/iBook
£3.79
CFL Rating: 5 Stars