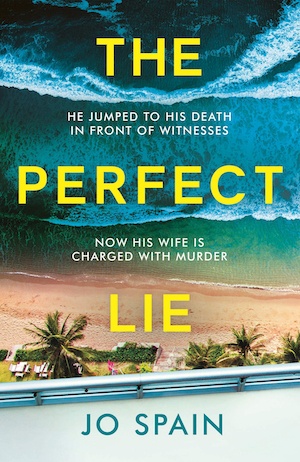 Interviews with Irish author Jo Spain always meander into the same territory – she would just LOVE to be a big name in the US. And that bid for world domination makes a massive step forward with The Perfect Lie, which leaves the rolling green landscapes of her native land behind and instead heads to Newport, Long Island in the state of New York.
It's the home of Erin Kennedy. As you might guess from her name, Erin is Irish born and bred. Five years ago she left Ireland in the wake of a family tragedy, became a book editor based in New York, and met Danny, the man who won her heart and made her his wife.
They're blissfully happy in the little seaside town where they've set up home. Danny is now a detective with the local police force while Erin does much of her work from home. Then one day there's a knock at the door and her world collapses in dramatic fashion. The early morning callers are some of Danny's police colleagues, including partner Ben. Danny's reaction is extreme – one minute he is there, the next he has leapt to his death from the balcony of the fourth-floor apartment.
What on earth made Danny take his own life? Erin thought things were good between them. Yes, he was busy at work but they were planning some time away the very next weekend. She's grieving the man she thought she knew, but gradually it becomes clear that Danny had secrets. As his former work colleagues turn their back on Erin – even Ben – she must try to piece together the truth… And what she uncovers knocks Erin for six.
We've reviewed Spain's books before on Crime Fiction Lover, and usually she sticks to home turf – for example, With Our Blessing is based around the Magdalene Laundries scandal – but she expands her horizons nicely in The Perfect Lie. There's a palpable sense of place, and in these largely home-bound days it is so refreshing to be able to visit a different setting without leaving your armchair.
Newport is a tightly knit community, and Danny and Erin had fitted right in so luckily she has a few friends to turn to when things go so badly wrong – and boy, is she going to need them! Hold onto your hats, folks because, from early on in this book, the action switches from back then, when Danny died, to the present, which sees Erin in custody, charged with murder and about to stand trial. What could have happened to bring about this pretty pass? This is where Jo Spain really comes into her own, employing a crafty smoke and mirrors approach that will keep you guessing… and guessing again.
As Erin's trial gets ever closer, we're taken back to those days, weeks and months after Danny's death. It seems that the more the grieving widow uncovers about the man she loved, the less certain she becomes. But thanks to those good friends she is beginning to move on in life. All seems hunky dory, but at the back of our minds is the seed so deftly planted by Spain. We can't get too comfortable – because Erin is in JAIL. How that came about is a tale worth the telling.
It's clear that Spain relishes creating moments where her reader feels complacent – we've got a handle on things, right? Wrong! Because this author has plenty more twists and turns in her arsenal. Some are the head-slapping 'I should have guessed' variety while others come right out of left field. It makes for a satisfying (and confounding) reading experience. I suggest you grab yourself a copy and see if you agree.
Like Jo Spain, Northern Irish author Adrian McKinty based his books in his homeland, until breaking out with the huge bestseller The Chain, set in Massachusetts. Check out our review here.
Quercus
Print/Kindle/iBook
£7.99
CFL Rating: 5 Stars