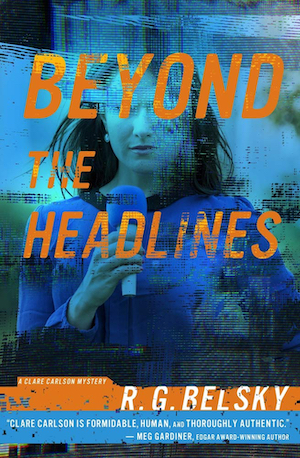 RG Belsky's Clare Carlson is a New York City television news director, and her skill at getting to the truth doesn't take a back seat to anyone's. There may be delays, detours, and false starts, but she gets there in the end, as we've already seen in Yesterday's News, Below the Fold and The Last Scoop.
In Belsky's latest book, the fourth in the Clare Carlson series, she's again not content to assign the big story of the day to her reporters, she's on the case herself. Clare's best friend tips her off that mega-celebrity Laurie Bateman wants to divorce her wealthy, older husband, Charles Hollister. Bateman wants Clare to tell her story on-air. This is shocking news, because the couple appear so happy, but when Clare arrives at the Batemans' apartment building the street is filled with police. Hollister is dead, and Bateman is accused of killing him. Rather than getting an interview, Clare sees her quarry driven away in a squad car. Still, the murder is breaking news, and she has the story first.
Her initial enquiries reveal that quite a few people might have wanted Hollister dead: his son, who believes himself short-changed in his father's will; disgruntled business people he's trodden upon; his mistress; and her jealous husband. The police and prosecutor are not interested in any of these possibilities. They have the wife in a jail cell on Riker's Island and tunnel vision keeps them focused on her. When Clare finally does get to speak with Bateman at the jail complex, the woman maintains her innocence and explains she wanted the divorce because Hollister was psychologically and physically abusive.
When Clare's interview with Bateman is televised, it opens a floodgate of public support just as cracks appear in the prosecution's case. The maid who said she discovered Laurie fleeing the apartment is the only real witness but she dies in a subway accident. In Bateman's initial hearing, her lawyer suggests other perpetrators and Bateman so touchingly details the abuse that the judge dismisses the charges. Bateman is a free woman again and credits Clare with getting her out of jail.
It's a big story, rewarding even, but Clare starts to have doubts. Did she just manage to set a murderer free? Not one to tolerate a loose end, she goes all the way back to Bateman's family in Vietnam, and a succession of convenient deaths that occurred even after her mother fled to California with the infant Laurie.
The puzzle aspects of this book are really intriguing, and Belsky writes with a lot of narrative energy. Although murder is the subject, Clare's one step removed from it and can comment wryly and very humorously about situations as well as herself – her ex-husbands, her ill-advised romances.
Written in first person, the book begins with Clare's commentary on the gallows humour that suffuses a newsroom. "I guess we joke about death because we have to deal with so much of it as journalists." This and other aspects of the news business Belsky writes about with authenticity and conviction. His depiction of Manhattan, where he worked for newspapers and television for many years, is equally spot on. The new well of experience he draws on for this book is his military service in Vietnam, 50 years ago, before the war began its slow wind-down.
To investigate a crime, Clare leads with her strength, conducting smart interviews. Her stories are not police procedurals, and there's not a lot of attention to CSI-type details. However, here, I thought some gaps needed filling. There was such a rush to arrest Laurie, why no gunshot residue test on her and her clothing? When it appears the killer may have had access to the apartment the evening before the body was found, what had the coroner said about time-of-death? Belsky recognises this hole and patches it with a quick statement about the medical examiner's doubts. Not quite good enough. These are investigative touchstones that Clare, with her experience, would presumably know and ask about.
Nevertheless, when it comes to the central aspects of the story – the motives and behaviour of a long list of iffy characters, each of them having their own secrets—Belsky excels.
Also see The Source by Sarah Sultoon or find one in our list of best crime novels about journalists.
Oceanview
Print/Kindle/iBook
£1.43
CFL Rating: 4 Stars