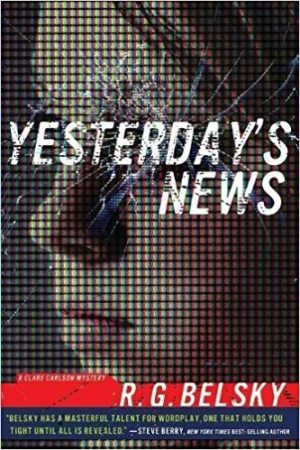 Written by RG Belsky — Dick Belsky's long association with New York City news media – newspapers, magazines and television – stand him in good stead for his Manhattan-based crime novels, with reporters as investigators. He makes the newsroom politics entertaining, and the bustle and bravado of the city practically leap off the page. They become places you want to be.
In this book, he offers a new protagonist, Clare Carlson, a former superstar newspaper reporter whose employer went out of business. Now she's news director for television's Channel 10 News, and while she likes being the boss in the studio, she clearly believes television news is a lesser form of journalism, well beneath her talents and skills.
Yesterday's News is an ironic title, referring both to Carlson and the one big story from 15 years earlier that made her reputation and earned her a Pulitzer Prize – the disappearance of 11-year-old Lucy Devlin, plucked from her Gramercy Park neighborhood and never found. Any parent can immediately identify with the horror of a missing child, and why her mother Anne has never given up hope. That hope made Anne prey to con artists. It destroyed her marriage.
The anniversary of Lucy's disappearance is fast approaching when you feel the first twist of Belsky's knife. Anne is dying of cancer, desperate for closure and, as she has many times before, she claims to have new evidence. She wants an interview with Carlson.
Anne has received an anonymous email claiming that shortly after disappearing Lucy was seen at a motorcycle convention in rural New Hampshire, riding with someone named Elliott. Like almost everyone else, Carlson assumes Lucy is long dead, but she had befriended the Devlin family to get her story. Can she, and should she, rekindle that relationship? It's a good TV gimmick, she thinks, though she has reason to be reluctant. She's afraid Anne will hold her to a long-ago promise that she'd always be there for her, for the family. For Lucy.
Using first-person narrative Belsky does a good job portraying Carlson's mixed feelings about reinserting herself into this story about which she thinks she knows everything. He has surprises in store for her and, even though you think you know what she knows, she retains the ability to surprise as well. She's prickly, and you can understand how she ran through three husbands. At the same time, she's likeably dedicated and can be hilarious. She expertly plays the two female eye-candy news readers off each other, zooming past political correctness and leaving it in the dust.
Carlson does the interview with Anne and soon launches into full investigatory mode, rummaging around in people's 15-year-old memories. She does find promising pieces of information, but none of it fits together. The motorcycle convention has her looking into the Warlock Warriors, at one time a violent motorcycle gang and not above some serious intimidation even today. Years ago, Lucy's father was a biker who ran with this gang. An encounter with some of the group's current members is not as cordial as she and her cameraman would have preferred, and the gang's connection to the case means there's some real danger to her continued probing.
Carlson thinks it's hardly a coincidence when a little journalistic digging reveals the annual biker convention occurs very near where the bodies of six children were found a few years after Lucy went missing. These children varied in age, ethnicity, and home state, yet somehow all ended up dead and in the same remote location. Who were they? What's the common denominator?
The attorney who ran the federal investigation into the case is a rising political star and an ex-biker himself. Name of Elliott Grayson. Elliott, right? Acres of dirt not previously sifted are about to be exposed in the midst of a high-profile political campaign. And some of it may not leave Carlson with clean hands either. While her pointed questions to Grayson about Lucy's disappearance and his later investigation could send his campaign up in flames, she's found a wily adversary who can bring her down too. The tension between them, and the unexpected directions the investigation takes make for an engrossing, fun read – with a visit to Manhattan as a bonus.
If you like stories about the reporters who delve around in a city's mean streets, try David Mamet's Chicago or Cathi Unsworth's That Old Black Magic, set in WWII London.
Oceanview Publishing
Print/Kindle/iTunes
£10.44
CFL Rating: 4 Stars