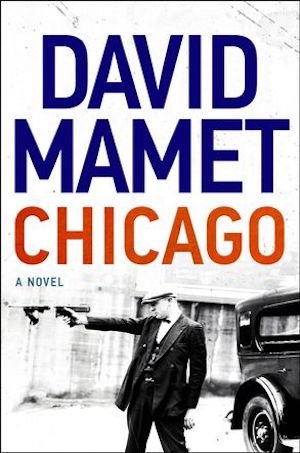 Written by David Mamet — David Mamet is best known for his work in theatre. His Pulitzer Prize and Tony Award-winning play Glengarry Glen Ross quintessentially captures what we have come to love and expect from his work. This sweary play is about real estate agents trying to sell timeshares from an office that sees a stack of their best sales leads go missing. It's a mystery which of the four took the documents. What makes it unforgettable is the hard hitting, fast paced hyper-realistic dialogue that comes out of the mouths of the play's unforgettable characters. The movie stars Al Pacino, Ed Harris, Jack Lemon and Kevin Spacey, and if you haven't seen it drop everything, go watch it, and then come back and finish reading this review.
Mamet's latest novel Chicago is only his fourth, and his first in over a decade. This is notable because he seems so prolific in every other category. As the book opens we find Mike Hodge and Clement Parlow in a duck blind somewhere outside of the city in the midst of a literary conversation. Both men have lived complex lives, though neither is much over 30. Parlow was in Japan, as a reporter, during the devastating quake of 1924. Hodge was a pilot during World War I. Both now work for the city desk of The Chicago Tribune. It's the 1920s, the 18th Amendment has been passed, and the prohibition of alcohol is in full effect.
This is the Chicago of Al Capone, a world of bootleggers, wise guys, toughs, European immigrants and everyone else in between. The action picks up quickly after Hodge and Parlow are introduced. Local club owner Jackie Weiss is dead. As Mike Hodge puts it, he died "…of a broken heart… It being broken by serval slugs from a .45."
Hodge does his best to find out more about Weiss while at the same time chasing a chaste Irish girl whom he is falling in love with. Annie Walsh works for the florist that supplied flowers to Weiss' service. The narrative is hard to follow at first because Mamet has a lot going on. The setting and action feel more like scene directions in the early book and act mostly to get people talking. That said, some of the dialogue can feel contrived. Usually in Mamet's work it's the dialogue that shines, and there are still enough one-liners and incredible bits of conversation mixed in to sustain us.
Soon after the death of Weiss, Hodge and Annie consummate their relationship. Directly after this moment, a masked person appears at the door of the apartment, shoots Annie dead and slugs Hodge unconscious. When he comes to he is nothing but a pile of broken pieces.
The story careens ahead at a lightning pace. Big ideas and themes are woven into the narrative. Grief, Guilt, and Hodge's wartime history all make for a meaningful and layered text. The desire for truth, retribution, and solace are his main motivators. You can't help being pulled into the heaping emotion that saturates each page. Outside of Hodge a lot of other people and voices find their way into the story and it gets very convoluted at times. As more bodies pile up, Hodge starts to see a way through the deaths and zeroes in on the truth.
Location is key in this novel, a book named after the city its characters inhabit. Mamet knows Chicago well and uses it flawlessly. The tone and mood are inextricably linked to its early 20th century big city prohibition setting. If you like location-based historical crime fiction you will dig what Mamet does with this one.
The book reads as if Mamet has taken an Edward Hopper painting and wrapped in it some John Steinbeck and Ernest Hemingway novels while a tipsy Raymond Chandler sits by giving suggestions on how to punch up the dialogue to sound more noir. This is a big piece of literature as well as a crime novel. You will be in love, really frustrated at times, confused, and mesmerised by what is done in these 300-plus pages. But, all of that said, don't be afraid, this is a tremendous work from a writer who has been a staple in film, drama, and letters for over 40 years. Recommend for fans of literary crime fiction, James Ellroy, and classic American noir.
See also our piece on 10 literary classics that are also crime novels as well as our classics in September archive where each September we revisit some classic crime fiction.
Custom House
Print/Kindle/iBook
£11.99
CFL Rating: 4 Stars