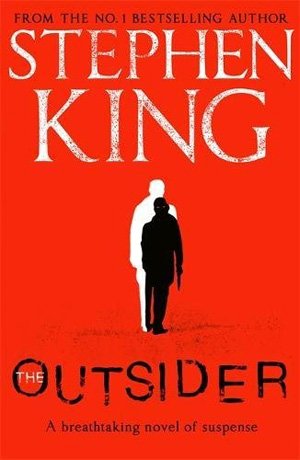 Written by Stephen King — Horror kingpin Stephen King occasionally likes to dip his toe into the murky waters of crime fiction, most recently with the Mr Mercedes trilogy featuring retired police detective Bill Hodges and his business partner Holly Gibney. We've previously reviewed Mr Mercedes and Finders Keepers. Now he's taking a dive bomb into the deep end of the pool with The Outsider.
Terry Maitland is a man well loved in the small Oklahoma town of Flint City. He's a teacher who runs the local Little League and is known to all as Coach T. There are 1,500 people on the bleachers at the Estelle Barga Recreational Park as Flint City Golden Dragons come in to bat in the bottom of the ninth, one run down but within touching distance of a place in the league final. Hopes are high until Detective Ralph Anderson and a group of police officers shatter the moment  – and Coach T's life and reputation – by arresting him in full view of a bemused crowd which includes Maitland's wife Marcy and two young daughters.
Why all the rush? Four days ago, the body of a young local boy was discovered. He'd been raped and mutilated, and Maitland's DNA and fingerprints were all over the crime scene. Maitland was also seen with young Frank Paterson on the day of the murder and, later, with blood on his hands and clothing. It's a slam dunk case, but the speed with which Anderson and his team bring their perpetrator to justice is about to come back to bite them.
Because there are also witnesses to Maitland being miles away in Cap City at the time of the offence. He was with teaching colleagues who all insist he never left them. In an added wry twist, Maitland was also captured on camera by a local TV station as he asked a question of crime writer Harlan Coben at a book signing attended by the teachers' group. How can one man have been in two places at the same time?
As Maitland's life crumbles, so does Ralph Anderson's. He soon regrets the decision to arrest his suspect in such a public fashion and struggles to come to terms with two compelling sets of evidence which point to such disparate conclusions. Then fate takes a hand and Anderson finds himself on the outside too.
So far, so intriguing. Don't you just love a crime novel that has you thinking? Here we have a writer who can add flesh and bones to even the most minor of bit players, whose settings have vitality and atmosphere and who can plot along with the best of 'em. But we are talking Stephen King, aren't we? So when the world suddenly goes awry I suppose we should have been expecting it. In a nod to the aforementioned Mr Mercedes trilogy, the lines start to blur with the arrival of Holly Gibney. She has previous with the unexplained and inexplicable so her inclusion is perhaps a harbinger of what's to come.
Because, while crime fiction fans have been teed up to worry away at the two-places-at-one-time scenario, hardened King followers are already seeing the wood for the trees. I'm not about to spoil all the fun but let's just say that things are not what they seem and you'll have to be prepared to suspend belief as The Outsider heads for its conclusion.
This is a book that'll grab you and keep you in its clutches through a few long reading sessions, populated with some wonderfully portrayed characters – Ralph and Holly my favourites of a fine selection. So why did I feel a little let down at the finale? One day, Stephen King will set his sights on creating a perfectly believable crime novel. The Outsider isn't it, but it's a very enjoyable ride all the same.
Stephen King's Joyland is an excellent read. For more horror-related crime offerings look here.
Hodder & Stoughton
Print/Kindle/iBook
£9.99
CFL Rating: 4 Stars