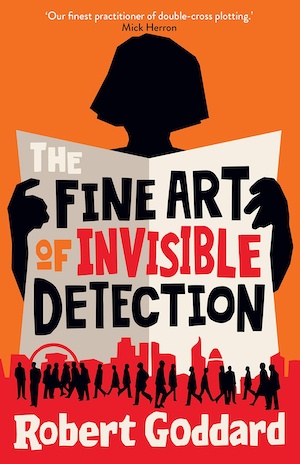 Crime fiction protagonists don't need to blow the doors off like Jack Reacher, or come with brilliant minds and complex issues like just about half the detectives you can name. As Robert Goddard proves with The Fine Art of Invisible Detection, they can be utterly unremarkable. So unremarkable that they pass through life almost unnoticed – perfect for the invisible detection referred to in the title.
Two such characters feature here. First, there's Umiko Wada, 40-ish, a secretary from Tokyo who works for a private investigator. You'd think that would be exciting but most of the cases taken on by her boss, Kodaka-san, involve fairly minor issues. Marital infidelity, insurance fraud, maybe a bit of rivalry between companies. However, he has been building up a big file on a shady businessman called Nishizaki, who isn't quite yakuza but who does use unfair methods – including violence – to drive his competitors out of business. For good.
Then there's Nick Miller, a London teacher whose mother has recently died. He was brought up by two hippy women, and never knew his father. When Martin Caldwell gets in touch wanting to meet Nick, his interest is piqued. The man knew both his parents, and might be able to tell him more about his father.
Strangely, a woman in Tokyo whose father may have been killed by Nishizaki has also been in contact with Martin Caldwell. She wants to find out what Caldwell knows about her father's contact with a Westerner in a photograph she's seen, but instead of flying to London to meet him, she asks Kodaka to help. The detective decides that Wada can go in the woman's place to see what information Caldwell has to offer. Wada flies to London, and then things get serious. Kodaka is killed in a hit and run and Wada is certain Nishizaki is behind it. What should she do? Give up and fly back to Tokyo? Or find out what Martin Caldwell has that's so important?
Well, Wada might be an unlikely detective, but when she sets her mind on something she will not be thrown off track. Author Robert Goddard builds a steadfast character who makes up for her slight physique, quiet demeanour and unremarkable looks with sharp mind, logical approach, and a very large consignment of bravery. There's something very refreshing about this character, whose efficient and philosophical way of controlling her emotions and dealing with threats feels just like the characters in authentic Japanese crime novels. She's a highlight of the novel, from beginning to end.
The set-up itself is complex, which is a trademark of Diamond Dagger winner Goddard's writing. Martin Caldwell, whom both Wada and Nick Miller are seeking, has disappeared and after a fair bit of trekking between London and Devon, both characters, separately, find themselves heading to Iceland. This is a bizarre twist in the storyline, but more is to come, as they find themselves on the fringes of a major conspiracy involving Nishizaki. As with many crime novels set in Iceland, The Fine Art of Invisible Detection puts a significant multiplier on the country's normally low murder rate.
Through deft plotting, Goddard keeps Miller and Wada separate throughout the entire novel. Yet as normal seeming as both characters are, you can't help but engage with them. And sympathise. It turns out that Wada's husband was a victim of the sarin attack on the Tokyo subway in 1995. He remained in a coma for 12 years before dying. She's driven by the fact that Nishizaki not only had her boss murdered, but was connected to the leader of the cult that released the poison. Meanwhile, Nick is a man who wants to know more about his father. He's been lied to all his life and now, as bonkers as it seems to him, is willing to chase Martin Caldwell to Iceland to find out his real heritage.
There are kidnappings, break-ins, threats, fights, cold-blooded killings… but driving it all are these two characters who you'd never look twice at. No flying karate kicks. No dragon tattoos. No car chases. Just Nick and Wada, muddling their way onwards in the face of insurmountable odds. The set-up is pretty far fetched. The police in the novel seem incompetent and unbelievably so, which facilitates a lot of what goes on. However, The Fine Art of Invisible Detection is an intelligent and uplifting read that, despite the bad things that happen, feels pleasant and cultured. Try it.
Also see Newcomer by Keigo Higashino.
Bantam Press
Print/Kindle/iBook
£9.99
CFL Rating: 4 Stars