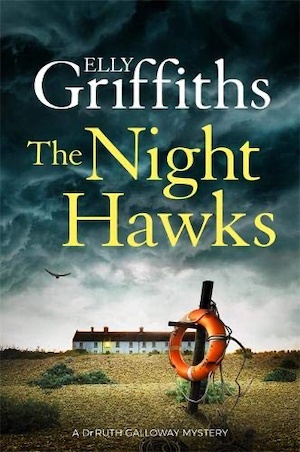 I kept putting off opening the latest Elly Griffiths book. Not because I didn't want to read it – on the contrary, I was itching to get started. But I just felt the need to delay, for a little longer, that moment when I arrived once more in North Norfolk. It's been hard not seeing friends during lockdown, so meeting up with Dr Ruth Galloway and DCI Nelson again was definitely a moment to savour.
Fans of this series (and there are many) will not be disappointed by The Night Hawks. All is well in Ruth's world. She's back in the place where she truly feels at home after a foray in Cambridge and she has a new job as head of archeology at the University of North Norfolk. Nelson's lot is a little more downbeat. Though things are good domestically with wife Michelle and little Georgie, the surprising late addition to their family, at work the boss seems determined to push him into retirement. But he has no intention of going quietly, so when a body is uncovered on the beach by a bunch of metal detectorists who call themselves The Night Hawks, Nelson hot foots it out of the office to take a closer look.
The treasure seekers were on the trail of an ancient hoard when they came upon the dead man, who is something of a mystery and has a strange tattoo on his neck but nothing else to help with identification. It piques Nelson's interest – and something nearby will pique Ruth's interest too… because the Night Hawks had some success in their search. "It seems like a lot of old metal," Nelson tells his former lover – and right in its midst are some bones.
When Ruth gets to the site, she confirms that the skeleton certainly isn't recent. Most likely Bronze Age, in fact, and that is exciting news for her new colleague, David Brown, who has tagged along for the ride. He's something of an enigma, this Brown chap, and it soon transpires that he has links with the Night Hawks too. Is he to be trusted?
The ancient skeleton was buried with a dagger in his hand – was he killed, or could he have been a killer? Something for the academics to ponder upon as they excavate. Meanwhile, back in the present day, Nelson and his team are busy again, dealing with what looks like a murder-suicide at a bleak and desolate farmhouse on their patch. But something doesn't sit right, and soon the team is looking at the deaths of a prominent scientist and his teacher wife, and that of the young man on the beach, from a completely different perspective.
Elly Griffiths is an accomplished plotter and there's plenty to keep the reader interested and confounded in this book. I love her lightness of touch and the way she instills a little dab of humour here and there to brighten even the darkest of situations. It's quite a feat, that narrative balance, and Griffiths pulls it off with aplomb.
The Night Hawks is the 13th book in the Dr Ruth Galloway series and standards show no sign of dropping. There's so much to enjoy – a cracking mystery, coupled with beautifully bleak scenery and characters, both familiar and new, that glow with life. And right at the centre, like the stone in a peach, are Ruth and Nelson, who over the years have developed a relationship that ebbs and flows like the tide on Blakeney Beach. Like all good friends, I was sorry to wave them off. Counting down the days to book 14 when we can meet up again!
Read our interview with Elly Griffiths here. You'll find more Norfolk-based crime in Mr Nobody by Catherine Steadman.
Quercus Books
Print/Kindle/iBook
£12.99
CFL Rating: 5 Stars