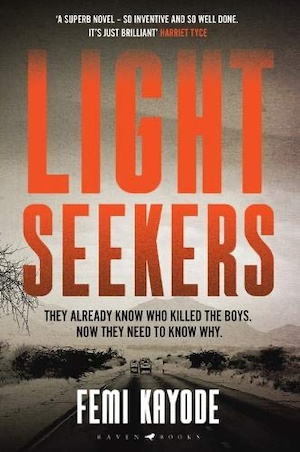 In the rural university town of Okriki, on the outskirts of Port Harcourt in Nigeria, three university students are burnt to death – necklaced by an angry mob who are convinced they are thieves. There is no mystery as to who is responsible for their cold-blooded killings and no murderer to catch. Seven people have been arrested and are standing trial. But Lightseekers isn't a traditional, run-of-the-mill crime fiction novel.
Besides the absence of a mystery in the usual sense, we have a protagonist who is neither a police detective nor a private investigator. Phillip Taiwo is a psychologist hired by Emeka Nwamadi, the father of one of the victims who wants to find out why his son was killed and clear the victim of any wrongdoing. Why would a third-year law student, at the top of his class, a good boy from a well-off family steal from fellow students?
Having just returned from a stint in the United States, Phillip is hesitant to take the case – he's an expert in crowd behaviour and violence, not a detective. However, as a favour to his father who has history with Emeka's father, he reluctantly accepts. The case also provides Phillip an opportunity to avoid confronting his wife, Afolake, after seeing her in an intimate embrace with another man through her office window. He knows when to pick his fights and he certainly won't win an argument with the youngest law professor at the University of Lagos.
Phillip's home in Lagos is a world away from Okriki's rural setting, and gaining the trust of a town struggling to deal with the repercussions of the incident proves to be near impossible. Prevailing social challenges, such as poverty, bribery and insecurity aren't conducive to his investigation either.
Being the outsider does have its advantages. He can ask the prickly questions, step on some big toes and see the story from a different, fresh angle. But as the elusive, Salome, an alluring local woman he meets on the plane so eloquently tells him: "You're pulling at a tiger's tail."
With the assistance of Emeka's right-hand man, Chika – someone who seems over-qualified for a driver – Phillip keeps tugging at the tiger's tail. Chika's assistance proves indispensable to the investigation. He knows the protocols of bribing officials, as well as the backroads for avoiding traffic and fast escapes. He is surprisingly adept at getting out of the dangerous situations Phillip frequently finds himself in as he rubs everyone up the wrong way – from the police inspector to the tribal chief.
As Phillip's investigations develop it becomes clear that Okriki is merely a microcosm of many socio-political issues extending their tentacles across Nigeria. Pressing issues such as poverty, crime, poor infrastructure, failure of leadership, police corruption and outdated legal structures create the perfect breeding ground for lawlessness to flourish and people to take control, enforcing their own interpretation of justice.
Debut author Femi Kayode is a psychologist like his protagonist, who wanted to investigate the psychology behind human behaviour, in particular mob justice, after he saw a video of the real-life incident of the Aluu4. What made both the fictional and real-life killings even more horrific was the recording and distribution of the footage on YouTube. Seeing their children being brutally tortured and killed, reliving it with each view, had a devastating effect on the victims' parents. Yet the video is still available on the Daily Mail's website. Again the power and destructive nature of social media comes to the fore and in the right conditions unregulated social media adds fuel to the fire of a disgruntled population. In this case it provides the perfect tool to manipulate a town's people towards irrational violent action.
Despite its violent undercurrent, Lightseekers has a consistent quietness to it which is even more chilling than the incident at its core. It hums with anxious energy much like the generators buzzing through Okriki. Nigeria is notorious for its blackouts and the title refers to finding answers in the darkness in a literal and figurative way. References to light at the beginning of sections solidify the recurring metaphor.
Even though social commentary is commonplace in crime fiction, the dilemma is finding a satisfying balance between addressing important issues and maintaining an engaging narrative. Lightseekers does it with ease. In addition, it seldom veers too far into the dark recesses of despair. Make no mistake, this is a harrowing novel, but there is a flicker of light amidst that darkness which makes it both an accessible and highly enjoyable read.
Also see our roundup of Nigerian noir, here.
Raven Books
Print/Kindle/iBook
£4.31
CFL Rating: 5 Stars