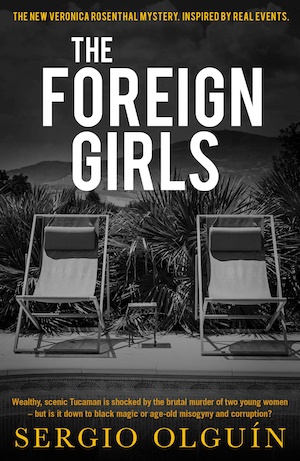 Translated by Miranda France — Investigative journalist Veronica Rosenthal in on holiday in Tucuman when she meets the foreign girls of the title, Frida and Petra. A chance encounter in a bar leads to Veronica inviting the backpackers to stay with in her holiday villa. Frida is Norwegian, Petra is Spanish, and they are in their early 20s, about a decade younger than Veronica. Veronica, a journalist from Buenos Aries, has been staying at her cousin Severo's holiday home. Severo is a provincial lawyer and is keen to join the successful Rosaenthal legal firm, headed up by Veronica's father, Aaron.
Veronica is on holiday to recover from the events Sergio Olguin put her through in his previous novel, The Fragility of Bodies. She broke apart a criminal conspiracy in which affluent men bet on the lives of poor children, placing herself and those around her in mortal danger. What she hopes for from her holiday are a restful break, some sunshine and a passionate affair with a rich, gallery owner and a friend of the family named Ramiro. She is surprised, and a little shaken, to find herself attracted to Frida, but it is as much the fact that Veronica does all the chasing, rather than the sapphic nature of the liaison, which disturbs her. In her sexual relationships, Veronica is used to being the quarry rather than the hunter.
The women move on to a holiday resort called Yacanto del Valle. There, Ramiro takes the three women to a party on a large estate owned by a family with ties to Aaron. The men at the party are older, boorish and persistent, making the younger women uncomfortable, but Veronica decides to leave Frida and Petra there, and spends the night with Ramiro. The next morning she checks out of the hotel they'd been staying at, and sets off alone to the next stop on her itinerary, Cafayate.
At the conclusion of Veronica's investigation in The Fragility of Bodies, she killed a team of hitmen by crashing her car in to them. Only one survived, Danilo Peratta, alias 3, and he has broken out of prison intent on revenge. Frederico, a lawyer employed in Aaron's firm, fell in love with Veronica when they first met, despite – or perhaps because of – her rejecting him. Either way, he has taken it on himself to be her guardian angel. Frederico has been informed of 3's escape, and both men are making their way to Yacanto to find her.
Also in the area is a journalist sent from Veronica's newspaper. One branch of the local police have intercepted a car carrying cocaine. One of the passengers was a Bolivian smuggler, his passengers were two members of another branch of the Tucuman police. The discovery of corruption, and a turf war between different sections of the police is big news.
Veronica returns to Yacanto after Ramiro calls her to say Frida and Petra have been murdered. No one admits to seeing them leaving the party, and their bodies have been found outside the estate. They never returned to their hotel. Both women were raped before being murdered.
It is at this point, perhaps a third of the way in to the novel, that The Foreign Girls becomes more recognisably crime fiction. Veronica begins her own investigation, fuelled by her anger of her friend's suffering, an anger that only grows as more obstacles are placed in her way. Thematically, Olguin explores the violence perpetrated on women by men, and more broadly the way women are treated as powerless, second-class citizens in Argentinian society.
The Foreign Girls may have originally been published in Argentina in 2014, but English speakers shouldn't expect an exotic or unusual reading experience. Victoria and her family travel in privileged circles, and Olguin isn't interested in exploring cultural or economic issues. The first half of the novel has a sensual feel to it, and sex is ever present, either being talked or thought about, or being experienced. With the discovery of the bodies and Victoria's return to Yacanto, the novel is experienced as a mystery thriller, though one that is rich in theme and character.
Just like its predecessor, The Foreign Girls is an excellent thriller, with a fully-developed, wholly engaging protagonist.
Also see Grab a Snake by the Tail by Leonardo Padura, or The Night of Shooting Stars by Ben Pastor from the same publisher.
Bitter Lemon Press
Print/Kindle
£5.69
CFL Rating: 5 Stars