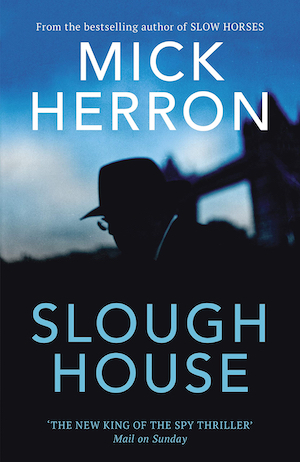 Slough House is Mick Herron's seventh novel about his team of unloved, incompetent though often marvellously effective MI6 spies. Like all series of this vintage, the characters tend to come and go so a good way to start this review is the same way Herron does and begin with an update on who is currently active.
As ever, Jackson Lamb heads the team. He is never without a drink or a smoke, even when the team goes dark, and remains as rude and offensive as ever. Despite giving every indication of wanting his team of slow horses to fail spectacularly, he never gives up on a Joe (spy), and its this trait which makes him such a popular character. He's also ruthlessly effective.
Catherine Standish is a middle-aged recovering alcoholic whose misfortune it was to be the personal assistant to a traitor. She is the sensible mother figure of the group. River Cartwright, is away in Kent, mourning the death of the OB, short for the Old Bastard who was Cartwright's grandfather, surrogate father and was a service legend. Louisa Guy, another member of the team who has been there from the beginning, is probably the safest pair of hands at Slough House.
Roddy Ho, Shirley Dander and Lech Wicinski round out the team. Ho is the computer nerd, a legend in his own mind; Dander is a brash cokehead; and Wicinski a desk analyst who was framed for paedophilia.
Herron grounds his novels around notable real-life events for satirical purposes, and this time he concocts a story around Brexit, the Yellow Vest protests and the Russian Novichok assassinations. Perhaps COVID-19 will make an appearance in next year's novel.
At base, Louisa Guy reports that she was tailed by an MI6 spy from Regents Park, the centre of MI6 operations and the hallowed turf to which all slow horses want to return. Several other members of the team think that it may have happened to them too, though their incompetence makes it difficult to be sure. At the same time Ho has hacked into the Park's computer system and discovered that all traces of Slough House have been expunged from the records. Something is brewing at the Park, and Diana Taverner, First Desk, and enemy of Lamb from way back, is probably behind it.
Taverner has her own problems to occupy her. Constant budget constraints have left the Park unable to respond to Russian provocation. However, they can't afford to ignore the assassination, on UK soil, of a Russian defector. Taverner is forced to accept funds from disgraced politician Peter Judd – a thinly disguised Boris Johnson – in order to subcontract a tit-for-tat response. However, she is soon reminded there is no such thing as a free lunch and we observe that there are no limits to Judd's ambition.
When a Russian operative is killed, they think the slow horses – who now appear to be off-the-books – were responsible. Lamb and his team are drawn into a complex and dangerous mess of Judd and Taverner's making and, as usual, have to resolve things in their own inimitable style.
Herron has provided another winning entry in what is becoming both a critical and commercial hit. He's already won a number of awards, and the development by Apple TV of a series, based on the books and with Gary Oldman as Jackson Lamb, should only increase its popularity. These stories about a disparate group of underdogs coming together to beat the odds (and beat The Man) have struck a chord with readers.
This coupled with the biting satire and basic humanity of Herron's writing are what have kept me coming back. Slough House isn't the strongest novel of the series – that remains Joe Country, a high-watermark which may never be matched – but it is most definitely worth your time and money.
Read our review of Joe Country here.
Soho Press
Print/Kindle/iBook
£9.99
CFL Rating: 4 Stars