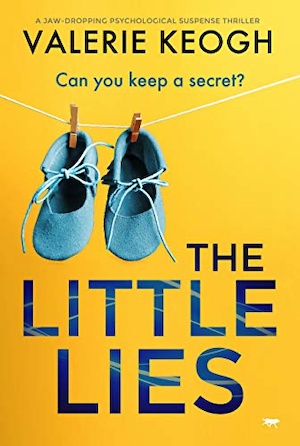 An eye-catching cover showing two sweet, tiny, baby shoes in the palest blue sets out the stall for this psychological thriller. The 'little secrets' of the title must include an infant, right?
But Valerie Keogh is such a tease! She wrong-foots the reader from the off, with an opening chapter depicting a happy domestic scene in a nameless cafe. It is clear that Jodie and Flynn are in love, and have a little boy they obviously dote on. So far, so Mills and Boon… but this is crime fiction, and Keogh has made quite a name for herself as the creator of twisty, turny tales so perhaps it's best to reserve judgement for now.
We're in Gravesend, Kent, and as Jodie rocks the baby in her arms she thinks back fondly to an earlier time – the day she and Flynn met, in this very cafe. We're about to be told a tale that may shock you and will definitely take you up some blind alleys before a terrible secret is revealed. The Little Lies of the title lead to some pretty big consequences, believe me.
Jodie is a nurse. She's previously worked in Dubai and at Guy's Hospital in London, but now she's after a change of pace and is employed at a nursing home. She owns her own place, has good friends and is lucky to have a job that she loves. She's just met Flynn and the pair are getting along famously, it seems. But then that lucky streak takes a detour when unattended drugs meant to be handed out on evening rounds are found in the room of a vulnerable patient at the home where Jodie works. She is suspended while an investigation takes place and suddenly her contentment takes a massive knock.
The suspension coincides with another worrying occurrence. A tiny pair of blue baby shoes are left on her front door knob by person or persons unknown. It's a discovery that shakes Jodie to her core. Because she's a woman with a past, and that past included a pregnancy when she was just 15. The man who groomed her back then is in jail… isn't he? This is where things begin to get interesting; as the somehow-too-perfect Flynn inveigles his way into Jodie's home, she starts to get the feeling she is being watched. And guess what? She's right.
Interspersed with the main narrative are sneaky little asides from that person who is keeping an eye on Jodie. He likes to hide in the shadows and he plainly isn't happy with what he is seeing. Could this be the person behind the dodgy drugs and the wee bootees? I'm saying nothing, other than to refer you to that last sentence in paragraph two of this review. You have been warned!
The Little Lies is an absorbing slice of domestic noir, set in a part of the country that doesn't often find itself in the crime fiction spotlight. The characters are well rounded if a little predictable and at times the plot will both shock and surprise you. It is let down somewhat by moments that seem vaguely familiar, like a well-worn path through the woods, but lovers of psychological crime with a dusting of domestic skulduggery will lap it up and be left calling for more.
On this showing, it is plain to see why Valerie Keogh is among Bloodhound Books' most popular authors – I'm already looking forward to the arrival of her next novel. What will that cleverly conniving mind come up then, with I wonder?
Check out some of Bloodhound's other top authors in this round up. You'll find more Kentish crime in Blood by Maggie Gee.
Bloodhound Books
Print/Kindle/iBook
£0.99
CFL Rating: 4 Stars