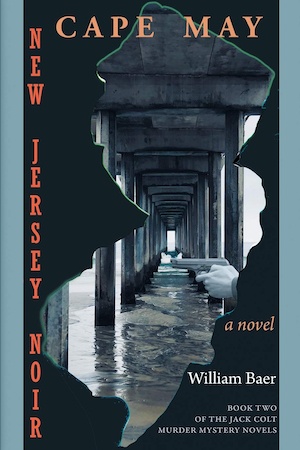 This is the second of William Baer's novels featuring private investigator Jack Colt of Paterson, New Jersey. Going by the title, you might assume this is part of Akashic Books' short story series that includes Milwaukee Noir or Amsterdam Noir. In fact, Akashic published a New Jersey Noir a few years ago. Unlike many of the stories in that book, which actually might have occurred pretty much anywhere, Baer's book is New Jersey all the way, with a shout-out to New Jerseyan Frank Sinatra in there too.
Almost 200 years ago, one of Jack's forebears founded the Colt gun company in Paterson, and Jack carries a Colt Python. Luckily, he's pretty good with it. A judge from Cape May, New Jersey, at the far southern tip of the state, has called on Jack with an intriguing tale of two murders. He'd hired a local Cape May private investigator, Edward Colt – puzzling surname coincidence there – to look into a cold case, his daughter's murder. Now Eddie Colt has turned up dead, and the judge believes the two killings may be related.
Judge O'Brien tells Jack that he had twin daughters, Nikki and Rikki. Nikki was murdered when she was 17. Her car was driven into the Atlantic Ocean with her in the trunk. A decade has passed, and the police long ago exhausted any available suspects. It was a notorious unsolved murder, as Jack recalls, and Eddie Colt wanted to pursue it.
In his will, Eddie left the judge everything, including all his papers, $25,000 and a note saying: 'Remittance for Jack Colt.' So, it's up to Jack to solve both cases and he gets started by re-interviewing the twin sister Rikki, their friends, and trying to get a lead on a college student Nikki met the night she disappeared. The story, as Jack gradually unwraps it, has unexpected twists and is nicely plotted. However, two additional aspects make this novel such a pleasure to read: humour and strong narrative voice.
Jack has an ally in his investigation in Rikki and she never cuts him any slack. The banter between them and between Jack and his elderly receptionist is hilarious. For that matter, all the dialogue is strong, reflecting author Baer's playwriting expertise.
Most of the story is told in the first person from Jack's point of view. You feel as if you're sitting in the passenger seat of his car, tooling down the Garden State Parkway from Paterson two-and-a-half hours south to Cape May. And he's talking to you. Or he's looking in the mirror talking to you. Here's how he describes himself: 'He was thirty-two years old, trim, a tough guy, six foot two, and, essentially, in your face. He was wearing one of his two-dozen identical black Armani suits, with one of this three-dozen identical navy button-downs, with one of his four-dozen thin black ties.' He goes on, 'As for his hair, it was thick, the blackest black, and slicked-and-greased back like a Jersey guido.' Every sentence of that description raises intriguing questions. He's a tough guy? He gets in your face?—how so? What's with the weird wardrobe? Is he truly a New Jersey guido? Jack's interesting voice makes you want to spend time with him.
Similar to the way such conversations go in real life, Jack wanders a bit, taking the opportunity to throw in facts about New Jersey, which he clearly loves, Paterson especially. But Baer has such a light touch, these digressions are not at all pedantic. For example, he points out that Cape May has more Victorian homes than any other city in the United States, except San Francisco. Many of them have been turned into B&Bs, and these play a background role in the story.
In addition to the first novel in this series, Baer has published short stories and nonfiction works and is an award-winning poet and playwright, among numerous other honors.
Other recent crime thrillers in which humour is a strong suit are The Lost and the Damned by Olivier Norek and The Summer of Kim Novak by Håkan Nesser.
Able Muse Press
Print/Kindle
£8.09
CFL Rating: 5 Stars