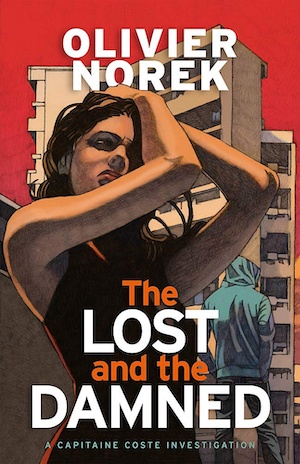 Translated by Nick Caistor — Welcome to Seine-Saint-Denis, also known as the 93. Forget the iconic Eiffel Tower, a walk along the Seine or the quaint coffee shops that Paris conjures up in your mind. This is the underbelly of Paris, the district with the most violent, brutal criminal activity in France, a working-class district branded a breeding ground for hooliganism, drug trafficking and radical Islam.
The first of Olivier Norek's Banlieue trilogy, The Lost and the Damned, published in France as Code 93, is set in the district where the author lives and where he has worked for the past 18 years as a police lieutenant. According to Norek, 95 per cent of his books are derived from facts and real events and this is what makes his writing both engrossing and unsettling.
We are introduced to Capitaine Victor Coste. Like the author, he works in the investigations department of the SDPJ 93, the Parisienne version of the gendarmerie. Unlike many other crime fiction detectives, Coste isn't a divorced, tired alcoholic. Norek goes out of his way to debunk the old stereotype to realistically depict a policeman fighting corruption and red tape while trying to do the best job he can.
The first body on Coste's worksheet is that of Bébé Coulibaly. While Léah Marquant, pathologist and the woman Coste pines over, examines the body it suddenly comes to life on her mortuary examination table. Sam Dorfrey, Coste's colleague, is convinced they have a zombie on their hands, but the pathologist has a more logical explanation – barbiturates causing a hypertonic coma and hypothermia. However, the question is, why was he castrated and his death so dramatically staged?
Victim number two, Franck Samoy, seems to have spontaneously combusted and number three, Jordan Paulin, had all the blood drained from his body as if attacked by a vampire. Norek has an eye for the theatrical – a useful skill if you write for a renowned crime series such as Spiral.
Simultaneously, Coste receives anonymous notes informing him of the deaths of two women. Neither of them are on police record, nor have they been identified. As Coste starts to scratch the surface he unearths a viper's nest of corruption involving his ex-colleague, Mathias Aubin, who has just retired.
It's all to do with a scheme to integrate Paris and its surrounding districts into a single metro area called The Greater Paris. To be included in this better resourced authority there was one requirement – the district's crime rate couldn't be more than that of central Paris. For the 93, with plenty of homicide, rape, kidnapping and even cannibalism, this was impossible since its crime rate was 30 per cent higher. To adjust the figure, socially unimportant victims – the invisible ones – were hidden. Matthias Aubin was at the centre of this corruption.
Not only does this present a dilemma for Coste, it seems there could be a connection between the unidentified corpses and the bizarre killings he's trying to solve. Either way, Coste's strong moral compass forces him to make the right decision.
Norek doesn't need to fabricate wild, elaborate stories for his novels, he's lived them and it shows. He admits to having a gloomy outlook and finding the darkness in the world. The author says that he remembers the streets of his district by the crimes that took place on them. Despite his admittedly morbid approach, The Lost and the Damned is surprisingly humorous, albeit dark, sarcastic and wry.
His characters, setting and atmosphere stand in stark contrast to traditional French detectives, such as Maigret. Simenon's Maigret inhabits the old Paris, with very little violence or action. Norek's Paris is gritty, violent and often shocking. His writing style matches this perfectly – it's pacey, fast and hard, building suspense bit by bit through the snappy chapters. Contemporary dialogue between police colleagues and the use of street slang adds authenticity. Translator Nick Caistor's decision to leave many of the names of the police departments and special squads in French with added footnotes acts as a reminder that you are well and truly in France.
French crime writing is moving in a different direction, portraying a France that might surprise overseas readers. But just like crime writing, French society has changed over the past two generations. In some ways it is more complex and difficult, with conflict and violence erupting now and then. Crime writing is reflecting this. If Norek's writing is anything to go by the future of French crime fiction is looking brighter than a sunset on the Seine.
MacLehose Press
Print/Kindle
£9.99
CFL Rating: 5 Stars