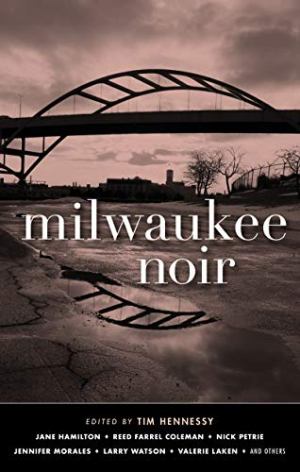 Edited by Tim Hennessy — At last, my husband's home town comes in for Akashic Books' noir treatment! I'm from the American Midwest myself (Detroit), so I know the region, though these 14 tales expertly nail the specificity of Milwaukee, Wisconsin.
Like many Midwest towns, the Cream City has suffered from the decline in heavy manufacturing and is struggling to return to economic viability through a more diverse economy. Located on the western shore of Lake Michigan, Milwaukee has many assets, and reading this satisfying collection of stories, you may come to believe that its people are the strongest.
Yet, as these stories indicate, the residents have challenges aplenty. As editor Tim Hennessy says about the city's transition, "How do you move into the future and hold onto what you love about the past?" He recounts how horror writer Peter Straub says the town of his birth, referred to as Millhaven in his stories, is the kind of place where a character wonders, "What happened to the Millhaven where a guy could go out for a beer an' bratwurst without stumbling over a severed head?"
What indeed? To show people caught in this past-future bind – which is not limited to Milwaukee, the American Midwest, or even the US for that matter – Hennessy has assembled a collection that includes stories by such prominent names as Reed Farrel Coleman and Nick Petrie, but these well established authors are hardly the only reason to pick up this collection. Many writers in the ethnically diverse group whose work is less familiar turned in strong stories too.
Runoff by Valerie Laken is among the best, describing an adventuresome trio of teens exploring the pipes under the city and finding the ones that lead to manholes not on city streets, but in people's garages. Prime opportunities for a little pilfering. When one of these garage explorations reveals something much more dangerous than they ever expected, how will they handle it? It perfectly captures the equivocation and fearlessness of youth. Nicely done.
Transit Complaint Box by Frank Wheeler, Jr is a wonderful story about a somewhat jaded transit security officer and his probationer as they ride various bus routes, solving some problems and preventing others. While entertaining, the story is also a cry for help: it should not be up to city transit workers to deal with the serious mental health problems of the system's riders but without resources and interventions what choice do they have? Heartwarming and chilling, rewarding and dangerous in equal proportions.
These are stories mostly about people living on the fringes of the fringes of society and the dilemmas they face. Rarely is there a happy ending. The closure of a porn theater can be a positive in mainstream society's view, but what about the people who work there? They aren't folks who qualify for lots of other jobs. That story is Matthew J Prigge's 3rd Street Waltz.
How about the dark side of obsessive lawn care? The little fantasy presented in Christi Clancy's Mocking Season will definitely start you thinking.
It's refreshing to read about people who have had a lot of challenges in life who don't invariably fall into the too-predictable murder and mayhem that characterize many noir collections, though there's some of that too. Kids growing up. People getting old. Long-term friendships. Family. Lots of real life here.
Other Akashic collections we've reviewed are Amsterdam Noir and Mumbai Noir.
Akashic Books
Print/Kindle
£10.09
CFL Rating: 4 Stars