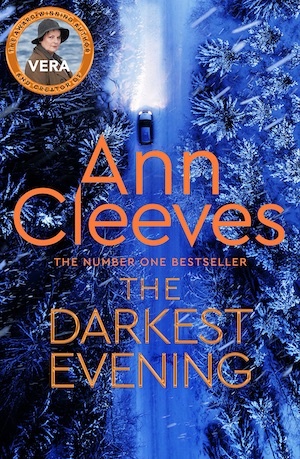 Can it really be 21 years since the first Vera Stanhope novel was published? There have been a further eight releases since The Crow Trap, and The Darkest Evening has been eagerly awaited by fans of this series.
Many of those readers may have been here since the off, while others will have come to the books via the TV series featuring Brenda Blethyn in the title role of Vera. Whichever the route, they're about to be thoroughly bamboozled and entertained here.
A snowy night, a country house, a dead body… All sounds rather Agatha Christie, doesn't it? But never fear, Ann Cleeves is an accomplished writer who'd never let her plot fall into the realms of cliche. Yes, this could be loosely termed a country house mystery, but that well worn trope is soon turned on its head and we're off at a satisfying gallop.
It's almost Christmas as Vera is driving her battered Land Rover home through a Northumberland snowstorm. The weather forecast was dire and she was advised to stay put, but when has that ever stopped her before? As the snow worsens, even Vera is beginning to regret her hasty decision.
It's as she loses her bearings in the whiteout that Vera comes upon another motorist in distress. Well, there's a car in a hedgerow, driver's door open and no sign of the driver. Strapped into the back seat is a toddler. Now who would leave a child alone on a night like this and where the heck have they gone to?
Vera is soon on the case, strapping the tot into her vehicle and setting off in search of the lost driver. No luck – but instead she gets her bearings. She's near to Brockburn, a big old country house, where a party is in full swing. As Vera arrives on the doorstep, sleeping child in her arms, all manner of memories flood back – because Brockburn and Vera have history. The house is owned by the Stanhopes and Vera's dad, Hector, was the black sheep of the family.
She hasn't seen any of the Brockburn Stanhopes since Hector's funeral and that has suited her fine, but when the body of a young woman is found on the snow covered front lawn, suddenly the place becomes a bona fide crime scene and Vera and her estranged relatives are thrown together.
This is Ann Cleeves at her best, exploring the intricacies of family relationships, lifting stones and revealing the dark secrets that lie beneath them. As Vera and her team try to uncover what led up to the death of young Lorna Falstone, all manner of secrets come to light. The who-coulda-dun-it list is extensive and the police really have their work cut out if they're going to catch the culprit this time.
The Darkest Evening is an excellent police procedural, but what really draws you in is that sense of sadness and introspection emanating from Vera herself. She's feeling her age, and the unexpected reunion with her family makes her a little mawkish and maudlin as she looks back on her life and ponders what might have happened if she'd made different choices. There's a certain appeal to this, although some readers might be put off by how it takes the focus off the case at hand.
Luckily, there's no sign of this character hanging up her floppy hat and baggy coat just yet, but perhaps Cleeves is preparing us for that day? Maybe a time will come when Vera settles into retirement but, like Harry Bosch and John Rebus, I get the feeling they'd have to drag her there, kicking and screaming. Meanwhile, enjoy!
Ann Cleeves reveals her favourite classic crime novels. You can discover more north east crime in our gazetteer.
Pan Macmillan
Print/Kindle/iBook
£9.99
CFL Rating: 4 Stars