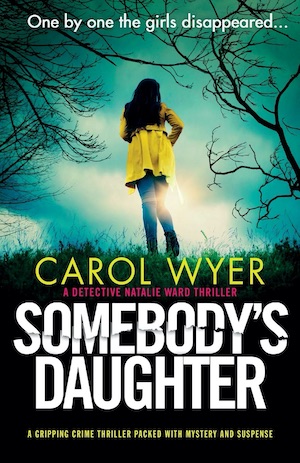 Can it be just three years since award-winning romantic comedy novelist Carol Wyer turned her attention to crime fiction? Since then, she's written 11 well-received books and now she's back with her 12th. Somebody's Daughter is number seven in the series featuring Natalie Ward and set in Staffordshire. But enough with the numbers, how does this latest release compare to the previous novels?
As the book opens, Ward has been freshly promoted to DCI and is part of a new 'super crime' unit that has yet to prove its worth. Her DI is Lucy Carmichael, a familiar name to readers of this series, as she was a member of Ward's old team. Carmichael has also recently won promotion and she's keen to demonstrate she's up to the job. So when the body of a young girl is found strangled in an empty car park, the team is keen to get the killer caught – fast.
Not likely. This is Samford, after all, Staffordshire's answer to Midsomer or Cabot Cove, where murders come along in bunches, like buses. And there's quite a body count ahead, some victims seemingly picked at random, others with tenuous links that have the investigating officers scratching their heads in frustration.
There is plenty of investigative detail for us to get our teeth into, but in true Carol Wyer fashion, Somebody's Daughter chucks a pretty liberal dose of personal drama into the mix too. Ward is still grieving the death of her daughter, Leigh, and the murders of two young runaways in the early part of this book cut to her very soul. It makes her all the more sympathetic to the plight of the parents left behind, but there are moments when all of Ward's internalising gets a little wearing.
Notwithstanding her ruminations over Leigh, Ward has also moved in with Mike Sullivan, who is the head of forensics and based at Samford HQ, away from the new team and their fancy, recently renovated offices. They have her son Josh living with them, while Mike's young daughter Thea visits every other weekend. Thea hasn't taken to her father's new friend and it's another thing to prey on Ward's already pretty crowded mind.
The balance between the police procedural and personal gets a little off-kilter as this book progresses, with the actual case in hand taking a back seat at some crucial moments, making for a frustrating flurry of page turning until things get back on track. Having said that, Somebody's Daughter will certainly keep this author's legion of fans happy.
There are plenty of familiar faces, including DS Murray Anderson, who was passed over for promotion but has used the knock back to spur him on to work even harder, PC Ian Jarvis and the obnoxious local journalist Bev Gardner who has been a thorn in Ward's side for quite a while now. There are new members of the 'super team' too, though most are sketched in rather than fully fleshed out.
Somebody's Daughter has moments of edge-of-the-seat excitement, but there's a distinct sense of deja vu about the story as a whole and it doesn't match up to the entertainment and level of engagement of the previous book in the series, The Secret Admirer. Carol Wyer has said this will be the last Natalie Ward book for a while as she concentrates on a new, darker, three-part series – and I think that's a wise decision as it appears things may have just reached a natural stopping point.
Police procedural fans will enjoy Little Altar Boy by John Guzlowski. And here is our pick of five of the best in the genre to add to the to be read list.
Bookouture
Print/Kindle/iBook
£2.99
CFL Rating: 3 Stars