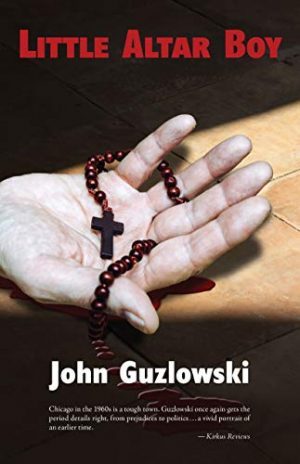 John Guzlowski's riveting new police procedural takes you back to the time before sustained pressure on the Catholic Church brought to light its widespread and systemic problem of child sexual abuse. The victims' quest for justice has taken years to play out and is ongoing, paralleled by revelations about how powerful men (mostly) continue to take sexual and psychological advantage of those on the wrong side of the power differential.
It's the late 1960s, in the post-Christmas dark night of winter, and Chicago police detective Hank Purcell is at home, waiting for his 19-year-old daughter Margaret to appear. She has new friends, new habits and new attitudes, none of which make him happy. He thinks she's doing drugs – smoking marijuana and maybe more. His vigil is interrupted by a rare visit from Sister Mary Philomena, a nun who'd helped him with a case some 10 years before. Short, plump, formidable. She's a grade six teacher at the local Catholic School, Saint Fidelis – an ironic name there – and she's troubled.
She tells him she's seen the parish's popular young priest, Father Bachleda, with an altar boy, appearing to fiddle with his pants. Whatever, it isn't right. She doesn't want Hank to make an arrest, just give a warning. When he finds out about the nun's visit, Hank's partner, Marvin Bondarowicz, would prefer to string Father Bachleda up, no questions asked, but Hank had promised the nun a warning only, which he and Marvin deliver. A day or two later, Sister Mary Philomena has been brutally murdered, with even worse to come.
Author John Guzlowski does an excellent job describing how Hank and Marvin move forward on the case, navigating all its ramifications, personal and political. These actions are balanced with their attempts to locate Hank's daughter, Margaret, who has gone missing. It appears she has hooked up with exactly the kind of people Hank spends his life trying to take off the streets. Any parent will understand the helplessness and desperation Hank and his wife Hazel feel as Margaret slips inexorably from their grasp. Hazel counsels understanding, but Hank has seen the results of this downward slide too many times to take the warning signs lightly.
Hank and Marvin have been partners for many years and, in any situation, the relationship between them settles into established grooves. Both suffer the PTSD-like effects of their military service and their years in the Chicago Police Department. Marvin drinks on the job and tends to be violent, and Hank isn't a by-the-book cop either. Their relationship is believable and nuanced and, at times, humourous. They aren't surprised when the powers-that-be try to put a lid on their investigation.
The pair are trying to resolve not one, but two compelling dilemmas: they're clearly outraged by the evidence of child abuse among the clergy, but, while they're trying to save the world's altar boys, what about Hank's own child, beset by a whole different class of predator? Hank's wife Hazel is a useful foil for the two detectives, pressing for handling Margaret's situation differently. But it seems there are no right answers; each course of action threatens consequences more chilling than the wind blasting off Lake Michigan.
Guzlowski is an award-winning author who has been nominated for two Pulitzer Prizes and five Pushcart literary prizes for work published in small presses. No surprise, then, that the writing of this book is especially fine. First, there's the grounding in real events. (In a Q&A provided by the book publicist, Guzlowski says, "In my parish when I was a child, there were five priests. Three were pedophiles.") He arrived in the United States in 1951, the son of Polish slave labourers in Nazi Germany. They relocated to Chicago, and his evocation of the city, which long clung to its strong ethnic neighborhoods, is spot-on.
Little Altar Boy is a book that never takes the easy way out, and Guzlowski doesn't arrange events for a tidy, Hollywood-style ending. Instead, what he writes is true to his characters in a way that will draw you in, tight.
Like this? You might try Turn a Blind Eye by Vicky Newham or David Mamet's Chicago.
Kasva Press
Print/Kindle
£3.08
CFL Rating: 5 Stars