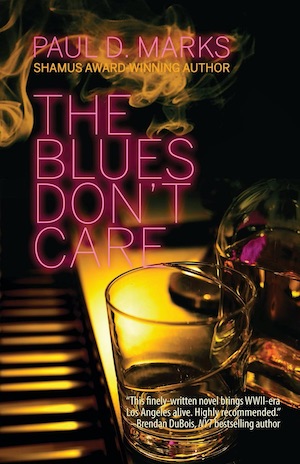 Books are pretty amazing things, aren't they? Open the cover and you can be transported to another place. Who needs an air ticket when you have a vivid imagination?
Some books even take you time travelling too, and Paul D Marks' The Blues Don't Care falls slap bang into the middle of this category. It begins at the dawn of the 21st century, as a late night phone call brings bad news for Diane Saxon. Her elderly father, Bobby, has died and the LA County Coroner's Office needs her to identify the body.
On 1 January 2000, Diane does just that. And it's at the morgue where she meets a man who is about to bring her father back to life by recounting a story that's set to enthral both Diane and readers. Back in the day Booker 'Boom Boom' Taylor had a hot jazz swing band and Bobby became his piano player. How a fresh faced white boy came to tickle the ivories for such a well-respected all black outfit is a tale well worth the telling.
Jump into the time machine and dial back to the 1940s. World War II is raging and at night Central Avenue in Los Angeles is jumping as people arrive at joints like Club Alabam to listen to the finest music and jitterbug their cares away. Bobby Saxon is a regular there, digging the music and supping on a Bubble Up (a bit like today's 7Up, apparently – I checked). So he doesn't drink, doesn't smoke either and cuts a lonely figure stageside. What's his story?
It soon becomes clear. Bobby is a talented piano player and his dream is to be a member of Booker's band. He gets his chance one night when the band is booked to entertain revellers on the Apollo, a floating gambling den that plies its trade off Santa Monica. All is going well until James Christmas, one of Bobby's new bandmates, has a falling out with a high-rolling gambler with a German accent. Next thing we know, Hans Dietrich is dead, his lifeless body hanging dramatically above the crowded dance floor. And James is hauled off by the cops, case over as far as they're concerned.
But Booker isn't so sure, and he decides his young, white piano player is just the man to prove it. So newly minted jazz pianist Bobby Saxon becomes Bobby Saxon, private detective – and a pretty poor fist of it he makes at first. But as he begins to feel his way into the job, Bobby comes to the conclusion that Booker might just be right. If so, then who did kill Dietrich?
This is a beautifully noirish book, set firmly in the dark days of wartime and offering a sharp insight into the life and times of Los Angeles, 1940s style. Yes, it's a mystery thriller, but The Blues Don't Care is so much more than that, with historic detail, chutzpah, a cast of hugely entertaining characters, a really unusual protagonist and, best of all, a cracking soundtrack too.
Not content with creating a quirkily different white man struggling to fit into a black world, Marks also gives Bobby a secret that's guaranteed to make you sit back in surprise when you learn just what it is. I loved the use of period dialogue ('criminy' is about to become a new addition to my selection of expletives, I think), and the seeding of real-life A-list luminaries from the period also add a touch of glamour to proceedings. Also, for fans of James Ellroy, it's fascinating to see the good ol' days in LA from the perspective of a different author – someone who cites Ellroy as among his greatest influences, to boot.
Marks is a multi award-winning author and on the strength of this book it's easy to see why. The great news is that The Blues Don't Care is first in a series. I'm really looking forward to travelling back in time with Bobby again sometime soon!
Ray Celestin's The Axeman's Jazz is another atmospheric slice of historical noir, while Broken Windows by Paul D Marks is set in modern day Los Angeles.
Down & Out Books
Print, iBook, Kindle
£3.05
CFL Rating: 5 Stars