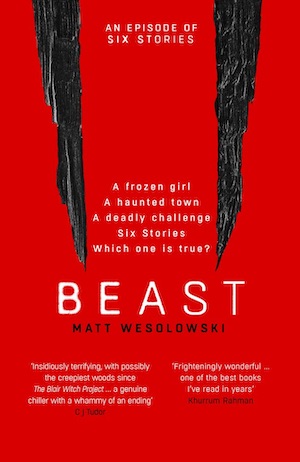 Written by Matt Wesolowski —In a recent interview with Crime Fiction Lover, crime author Matt Wesolowski told us that his debut, Six Stories, was began as an experiment. However, the formula he created has been catnip for crime fiction lovers looking for books that offer something original. The format remains the same here in Beast, with fictional true crime podcaster Scott King interviewing six people involved in a cold case. King is, in his own words, raking over the graves, as he explores the circumstances around each untimely death. Beast, just like his last two books, Changeling and Hydra, adds a sprinkling of the uncanny into the crime fiction brew.
King introduces us to a young vlogger, Elizabeth Barton, who was found dead during the winter months of 2018 when the UK was in the grip of the 'Beast from the East', the weather event that blanketed the country in snow and freezing temperatures. She lived in the small fictional town of Ergarth on the Northumbrian coast of Northeast England. The investigation suggested she died of hypothermia but the cold didn't hack off her head and leave it on her body. It has dismal echoes of the ancient traditions used to prevent vampires rising from the grave.
The macabre finding has added resonance given Barton's body was found in a 13th century ruin, Tankerville Tower, that sits on a clifftop just outside of town. There is a long told tale of an ancient vampire in Ergarth Dene that still haunts the local woods. Three men are convicted of Barton's killing: Solomon Meer, Martin Flynn and George Meldby. Meer has a vampire fixation and all three are troubled young men in their early 20s. It's their stories that Scott King explores.
Wesolowski has managed to juggle some diverse themes with dexterity. On one level this is a grisly murder mystery in a bleak and forbidding coastal landscape. It also offers comment on the most modern of phenomena, social media and the up and coming internet star. Elizabeth Barton was a beautiful, intelligent, Youtuber with a wide following including various hangers-on known as 'flying monkeys' and 'orbiters'. It seems that everything she did was curated for her online life, everything was Instagrammable and filtered. As ever, there's more to it. It's her Dead in Six Days challenge that ends in tragedy and the grim 21st century torture of social media is exposed and explored.
There are horror elements here, but they are subtle and Wesolowski shows a deft touch in weaving these into the narrative, often just off camera but never stretching credulity while still teasing us. Beast, like the others in the series, is not strongly character-driven in the sense of a traditional police procedural or detective novel. As the podcast host, King often fades into the background as the witnesses tell their stories
It's a relatively slim book and the nature of the strict format ensures that Wesolowski doesn't go wandering into sub-plots and unresolvable digressions just to fill the pages. As a result, it is taut, it's compelling, and it has a satisfying climax. The nature of the interview process lends itself incredibly well to readable prose as much of the emphasis is on dialogue. Equally, when it's just King speaking, Wesolowski has considerable free licence to give us some exposition. When we hear King's voice it feels natural, that's how a podcast or radio program would work. It's a brilliant combination that Wesolowski has created and exploited with remarkable effectiveness.
Beast is an irresistible crime fiction thriller from Matt Wesolowski with a supernatural edge that never overwhelms the story and results in an atmospheric journey. The episodic nature of the Six Stories series means this book functions very well as a standalone but it's very likely you'll soon be delving back into the earlier books.
For more crime fiction with the paranormal try the Charlie Parker novels by John Connolly. Sarah Pinborough's Behind Her Eyes and SJI Holliday's The Lingering have also dabbled with supernatural elements.
Orenda Books
Print/Kindle/iBook
£6.47
CFL Rating: 5 Stars