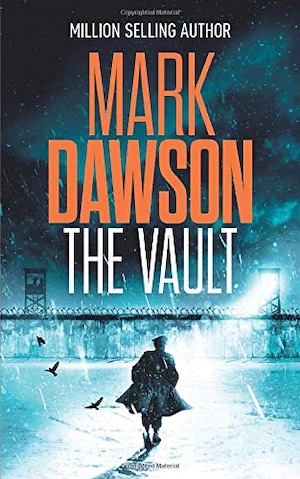 Written by Mark Dawson — Set only a few months before the fall of the Berlin Wall in 1989, The Vault is a standalone spy thriller with all the standard, but essential elements of the sub-genre – MI6, double agents and covert operations with plenty of action included.
After months of planning and burrowing a tunnel underneath the Berlin Wall, the time has come for Harry Mackintosh to smuggle his informant, PICASSO, to West Berlin. Claiming to have explosive information which would cripple the Stasi, 19-year-old Günter Schmidt's safety is at risk and it's up to Harry to get him safely to the other side. But the Stasi have eyes and ears in both Germanys and should not be underestimated. Predictably the mission is compromised, Günter captured and one of Harry's colleagues killed by the ruthless Stasi.
Harry swears revenge against his Stasi nemesis, Karl-Heinz Sommer, a killer, interrogator and executioner called Die Spinne – The Spider. Sommer's evil disposition and sadistic enjoyment of killing is mentioned more than once and he is convincingly betrayed as an unscrupulous, terrifying demon rather than a man. The remainder of the story deals with Harry's intricate plot to track down Sommer.
But first we're introduced to Vivian Bloom, an ex-MI6 agent who acts as a link between the government and intelligence services and has significant power and influence. Harry attempts to convince Vivian that he needs more experienced agents to execute his revenge over the botched mission, but Vivian won't bite. However, he does suggest someone who isn't a liability and won't be missed – thief, ex-con and boxer Jimmy Walker.
"He's intelligent, ruthless, and he's been on MI5's watch list ever since he got off the boat from Ireland. Ran away after he got involved with a job robbing a bank with the IRA without knowing and fled the country."
Jimmy started off with domestic burglaries, but greed got the better of him. Which is precisely what lands him in hot water when he is arrested after being commissioned by Eddie Fabian, a main player in the criminal underworld, to burgle a warehouse. Eddie sells Jimmy and his partner, Smiler, out to the police – unfortunately we never find out why – and he's given an ultimatum: work for British Intelligence or go to jail. Against his better judgement, Jimmy leaves his girlfriend young son behind and soon finds himself in even more volatile and dangerous situations.
It's difficult to say who the protagonist of The Vault is – Jimmy or Harry? Initially one assumes Harry to be the main character, but Jimmy is more fully developed with a colourful background.
Harry Mackintosh is almost as impenetrable as the Berlin Wall he's trying to escape through. We know he loves Élodie Leroux, the Berlin liaison to the British Intelligence's Berlin Station. We know he's in his early 40s and doesn't look like a policeman. Professionally we know he's meticulous and thorough in his job and that he took over when the head of station had been murdered in a knife attack in the East three months earlier. Whether or not he's intentionally portrayed in this one-dimensional way to accentuate that he's cold operator is unclear.
Jimmy, on the other hand, is unquestionably a doting father and partner. We're shown a glimpse of his family situation, as well as details of his upbringing in Ireland. Despite the fact that he's unmistakably the criminal in the story, he's also the one you're rooting for throughout.
The premise of the book, according to Mark Dawson, lies in the accounts of the many East Berliners who were stuck on the wrong side of the Wall when it was built and subsequently tried to flee to the western side. They had to leave all their belongings and hide their valuables so the Stasi wouldn't be able to seize them. Even Sommer has his own stash in a vault – "A repository for the files and audio recordings and compromising evidence – and yes, the loot – that he had acquired over the years." This back story might be the reason why the strength of The Vault lies in its setting and time period rather than its characters.
Dawson knows how to write a tightly crafted spy story driven by action. His astounding catalogue of writing attests to this. He's written more than 25 books and publishes one every four months.
If slow-burning procedurals are your penchant, you're at the wrong place. However, if you are intrigued by the Cold War and espionage makes you giddy with excitement, you will love The Vault. Likewise, history buffs will delight in reading about the Berlin Wall and those of us who aren't experts yet, will certainly have their curiosity piqued.
Also see David Young's Stasi series.
Unbound
Print/Kindle/iBook
£3.99
CFL Rating: 3 Stars