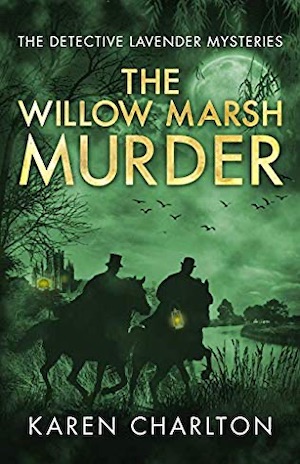 Written by Karen Charlton — Whether it is focusing on shenanigans in the Roman Empire or crooked deals during the Cold War, historical crime is a popular genre with readers of all ages. Some books skim the surface of the era in which they are set, but one of the things I love about Karen Charlton's Detective Lavender series is that the stories have a palpable air of authenticity.
The Willow Marsh Murder is set in Regency Britain, where the Bow Street Runners are keeping the peace on the streets of London. In fact, the capital's police are doing such a grand job that their services are in demand elsewhere. Which is why Stephen Lavender and Constable Ned Woods are in a carriage, on their way to Ely in Cambridgeshire.
Their presence has been requested by Mrs Olivia Quinn, of Willow Marsh Manor, who has written to their immediate superior, Magistrate Read at Bow Street. There's been a nasty murder on the estate and Lavender's powers of deduction are required urgently. The pair has been in Birmingham for two weeks on a forgery case and both men were looking forward to going home to their wives, but it's not to be.
Their frustration increases when they arrive at Willow Marsh, only to be told they've been victims of a hoax – there is no murder, and Mrs Quinn left for America, under a cloud, many years ago. Her sister, Miss Miranda Delamere, is at a loss as to who may be the culprit, but the men are offered a room for the night and they accept, eager to return to London the following day.
But Willow Marsh Manor is not as peaceful as it first appears, and Lavender has a disturbed night, awoken by an intruder who mysteriously vanishes into thin air. Then a real murder occurs on Willow Marsh property and the detective and his doughty sidekick are tempted to stay on. It's a decision that they may live to regret…
Charlton has already gathered enough narrative threads to keep any mystery fan entertained for many hours, but she throws another spanner into the works with the inclusion of a case which occurred way back at the beginning of Detective Lavender's career. It involves the brutal murder in London of a young barmaid known as Irish Nell, her body fund dumped down the well at the pub where she worked. It's a case which has haunted Lavender ever since – and it is about to have huge repercussions as he sifts through the clues in his current investigation.
Fans of the Detective Lavender books are going to be mightily satisfied by this latest instalment, which includes murder, intrigue, secret passages and dastardly smugglers plus the appearance of someone who has caused problems for the crime fighting duo in the past. That being said, this is also a book that can be read as a standalone if you want to jump right in midstream.
Karen Charlton has already proved herself as a skilful author of historical crime fiction and her sharp attention to detail once more brings the Regency period to life here. It's clear that she has done some meticulous research before setting pen to paper and her settings and characterisations live and breathe as they leap off the page. We also get to see a side of Lavender that he's previously kept hidden, and that adds an extra frisson to the interplay between him and his trusty sidekick Woods.
We've come a long way with Lavender and Woods since they first appeared in The Heiress of Linn Hagh (previously entitled The Missing Heiress and reviewed here) and the series has now sold more than half a million copies worldwide. The Willow Marsh Murder a fine way to continue the saga. And judging by the final few pages, there is more to come. Hooray!
Historical crime fans should also seek out Carolyn Kirby's debut, The Conviction of Cora Burns. And make a date with Barry Forshaw's era by era guide to The Best Historical Crime Novels.
Famelton Publishing
Print/Kindle/iBook
£3.99
CFL Rating: 4 Stars