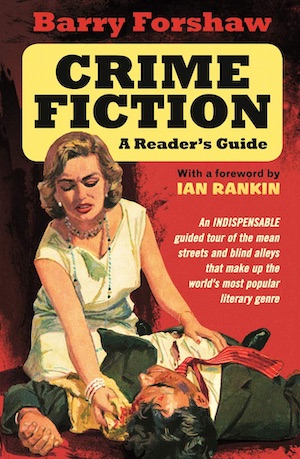 Written by Barry Forshaw — Over an expansive 400-plus pages Barry Forshaw overwhelms and impresses with his detailed research and knowledge of the crime fiction genre.
This shouldn't be surprising though. Here's a writer, broadcaster and journalist with an intimidating list of publications to his name, including the first UK biography of Stieg Larsson, The Man Who Left Too Soon. Not only is Forshaw an expert on UK crime authors, his works show off his knowledge of Nordic, German and Euro Noir, among others. He also edits the Crime Time website, frequently appears on television and is responsible for a variety of documentaries on crime fiction and film for BBC TV and radio.
In Crime Fiction: A Reader's Guide, Forshaw continues from where he left off with his 2007 Rough Guide to Crime Fiction. This time around, he expands upon the 200 authors he featured 12 years ago.
As Ian Rankin ponders in his introduction – "Has crime fiction finally achieved the respectability that has long been its due?" Looking at the rise in popularity of the genre and the evidence dispensed in this reference work, there's no doubt that the ugly stepsister is finally attending the ball. 
The roots of crime fiction can be traced back to the 19th century, but Forshaw takes it a step further – to the Bible when Cain slew Abel. He proceeds to old favourites like William Shakespeare, Honoré de Balzac, Victor Hugo and Bram Stoker building towards the rise in popularity of crime fiction as a genre in the 1920s. This came partly as a result of World War I, with people wanting an escape, but was also prompted by changes in the publishing industry and the arrival of the paperback.
Focusing on more recent fiction, the guide provides a selection of the best crime writing over the past century, organised by sub-genre, subject and era. There are chapters on the Golden Age, as well as hardboiled detective novels and pulp, while crime-lite readers won't be disappointed by the chapters on cosy and comedic crime. In between, there are private investigators, cops, lawyers, forensic investigators, journalists, wise-guys and, of course, the essential serial killers and psychopaths.
Nordic noir and domestic noir readers won't be disappointed either as Crime Fiction: A Reader's Guide covers these contemporary genres too, and also includes an appendix with six key Scandinavian thrillers. I particularly enjoyed the chapter on translated crime fiction, Foreign Bloodshed, which acknowledges the flood of outstanding novels from across the globe, made more accessible thanks to the work of skilful translators like Quentin Bates and Don Bartlett.
Forshaw manages to strike a tricky balance between providing the necessary background information without divulging too much to spoil it for the reader, with an added pinch of criticism to ignite interest. Each chapter provides his choice of writer in the genre or subject, with suggested reads. In some instances, he also analyses film adaptations of the novels. This not only leads to a growing list of books to read, but a daunting selection of movies to watch as well.
It's clear that this extensive compendium wasn't designed purely to cover just the bases of popular authors. Apart from generously adding his own favourite crime writers, Forshaw also includes potentially unknown and obscure authors and their works. An appendix with the five favourite books he rereads on a regular basis is included to cement the approach. In no way does this imply these outliers don't deserve their spot among Forshaw's chosen ones – merely that they're not as mainstream.
Pleasing every reader and including every single crime writer of the past century would be an impossible feat and even this attempt at times feels like an information overload. Nonetheless, as the title suggests it serves as a useful and encompassing guide for crime fiction fans.
If you are a crime fiction junkie who believes they have heard of and read extensively in the genre, this book is likely to prove you wrong and will also provide you with plenty of suggestions for your TBR. Whether you're looking for a standard whodunit or postmodern Japanese crime fiction never fear, Barry Forshaw has you covered.
For a taste of what's covered, see Barry Forshaw's recent feature on our site looking at five of the best domestic noir novels.
Oldcastle Books
Print/Kindle/iBook
£8.87
CFL Rating: 4 Stars