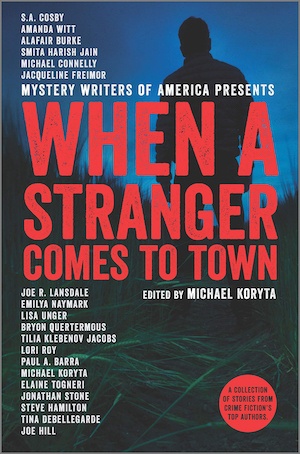 Edited by Michael Koryta — Leo Tolstoy is cited as saying, "All great literature is one of two stories; a man goes on a journey or a stranger comes to town." For the latest anthology from the Mystery Writers of America (MWA) guest editor Michael Koryta decided to test this theory and challenge the participating writers. The result is a compilation of 19 diverse short stories showcasing the storytelling skills of a selection of the best crime writers in America today, and beyond.
One of the main goals of Mystery Writers of America is to nurture fresh talent. This anthology not only introduces us to new voices on the crime front, but the proceeds will go towards scholarships for writers. You'll find stories by prolific crime authors including Michael Connelly, Joe Hill, Lisa Unger and SA Cosby. However, hot on their heels are emerging writers such as Tina deBellegarde, Emilya Naymark, Bryon Quertermous and Smita Harish Jain.
The concept of a stranger arriving in a town can instantly conjure up a feelings of fear, dread, anticipation or curiosity. A stranger can be the villain or a hero. Either way, he or she introduces an element of the unknown and the potential for disruption to the status quo – especially in a small, conservative town.
In Solomon Wept, SA Cosby's reputation as a talented writer is underlined with the gritty, visceral tale of Parrish, a sex worker and mother, fresh out of prison and hell-bent on revenge after her pimp sold her baby. And what a story to kick off with. Not only does it punch you right in the gut, it finishes the job by squeezing the last bit of breath out of you. Clearly Cosby was a strategic choice to hook us and keep us reading. But don't despair, much more ominous stranger danger lies ahead.
Amanda Witt evokes the remoteness of a farm in Texas and the vulnerability that comes with it in Relative Stranger. When Glory Crockett opens the door to a man closely resembling her husband and who claims to be his long-lost cousin she literally invites danger into her and her family's life. What follows is a chilling stand-off with the intruder that crackles with energy and chest-tightening suspense.
In the story Kohinoor, Smita Harish Jain transports us to Mumbai and the death of a 13-year-old girl at the hands of the Morality Police. Jacqueline Freimor continues the theme of violence against women with Here's to New Friends where a young woman narrowly escapes a predator while travelling on a bus. She cleverly turns a predictable situation on its head and the result is a clever story with a cruel twist.
What's most impressive about this collection is not only the high standard of writing, but also the writers' ability to conjure up perfectly suspenseful and satisfying, self-contained stories in a few pages, something which requires a particular skillset. Often, in my experience, short stories leave you with a gnawing yearning for more, to clarify or complete. Although there are a few stories that aren't quite up to pace with the rest, not once did I experience that exasperating, unfulfilled yearning.
In both Joe R Lansdale and Michael Koryta's stories the criminal unexpectedly meets their match. In Room for One, Jackson's attempt to burgle a house backfires spectacularly, while PFA is about an opportunistic woman who underestimates her new neighbours when she tries to swindle them out of an area of communal property.
When it comes to a twist in the tale, Lisa Unger's cleverly plotted and crossword-themed A Six-letter Word for Neighbour hits the spot perfectly. Mr Wilson, an antiques restorer, moves into 235 Marbury Lane, the house next to Jayne, a book reviewer struggling to recover after the death of her parents. Eager to salvage something from her past, Jayne takes a watch, a valuable family heirloom, to him for repair. When she goes to pick it up he denies ever having it. Then, two people seem to disappear after last being seen at his house. Jayne and neighbour start to delve into the stranger's history only to unearth some unsettling information.
Of course, no compilation about strangers is complete without a story set in a carnival. The whimsical atmosphere around a group of free-spirited travellers holds a multitude of potential storylines. Emilya Naymark goes a step further and introduces a stranger to the carnival. By an unfortunate turn of events an innocent man is implicated and wrongly accused, but all is not lost in the end.
Although most of these tales are set in America, two take us beyond its borders. We've already mentioned Smita Harish Jain's story set in Mumbai, but we also travel all the way to Tokyo in Tina deBellegarde's Tokyo Stranger. Mr Sasaki, a driver for Tanaka, a yakuza boss, goes beyond the call of duty putting his own life on the line to save a girl from certain death.
As you can see from the large repertoire presented in this collection there is no shortage of ideas or limit to which the boundaries of crime fiction can stretch when given the opportunity. Next time you find yourself a stranger in a town, city or country, remember that you are a walking mystery who might just end up in someone's short story.
For more crime short stories see Moonlight and Misadventure or In Sunlight or in Shadow.
Hanover Square Press
Print/Kindle/iBook
£18.23
CFL Rating: 4 Stars