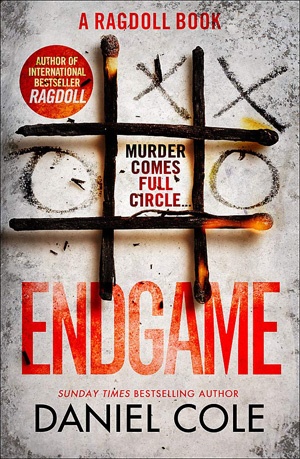 Written by Daniel Cole — Fans of Ragdoll and Hangman have been waiting impatiently for the final book in this trilogy. Well, here it is at last! Both of the previous books got five stars when they were reviewed on Crime Fiction Lover, so there's plenty to live up to here. Does the conclusion of the series manage to hit the mark? Errm, yes and no.
As Endgame opens, everyone is still reeling from the aftermath of Ragdoll, and not all of them are coping too well. Things are about to get even worse for former police detective William 'Wolf' Fawkes. He's called to the home of his former colleague and mentor, retired DS Finlay Shaw, by Shaw's wife, Maggie. To all intents and purposes it looks like a slam-dunk suicide – Shaw's body was found dead inside a sealed room, after all. But Wolf is certain his old pal would never have killed himself and is determined to get to the truth of the matter.
There's one small problem though. Because Wolf is a wanted man and as soon as more of his former colleagues get to the scene he's in handcuffs and taken to a police cell, where he shortly has some pretty high-profile visitors. It's Met Commander Geena Vanita and Commissioner Christian Bellamy and Wolf has a proposition for them: set him free to investigate Finlay's death. Vanita is dead against it, but Bellamy is ready to cut him some slack. After all, he and Shaw were partners in the 1970s, up in Scotland and later down in London.
Soon Wolf is receiving a begrudging welcome from his former team, including Chief Inspector Emily Baxter who has other things on her mind. Like harbouring a wanted and badly injured fugitive in her flat, but that's another, highly entertaining, story. The thing is, everyone believes Shaw's death was self-inflicted and they're not prepared to listen to the thoughts of an obviously deranged former detective. Then Wolf discovers something which could turn the investigation on its head…
I've already used the word entertaining and it sums up this book perfectly. Cole has a lightness of touch and a quirky sense of humour which invariably lightens the mood when things perhaps get a little dark. All the surviving main characters from Ragdoll and Hangman are in play here and things rip along at pace as we jump between Shaw and Bellamy's 1970s back story and the current investigation. Back in the day there was something of The Sweeney about the pair of devil-may-care young detectives, so how did Shaw stay a lowly sergeant while his pal flew to the top of the tree?
Those vintage scenes have a real air of authenticity, but it is the moments shared by Wolf and Baxter that shine. They're a cracking pair of characters and it's fun watching them circle each other like wary prize fighters. They have a history, but will that prove to be a hindrance or a help?
There's so much to love about this book: the sneaky plot, clever dialogue and fantastic characterisation are all what we've come to expect from Daniel Cole. But for me, there was something that kept it off being another five-star experience. It may seem a strange thing to write, but I missed the Technicolor scenes of blood and gore that feature so brilliantly in Ragdoll and Hangman – those gut churning tableaux that have you reading through screwed up eyelids.
At the start of Endgame, Cole explains that the trilogy is now complete but we can still expect more from the Ragdoll team. That must be music to the ears of his ever-growing army of fans. Please bring on book four forthwith – the gorier the better!
For more shocking crime scenes, try Rattle by Fiona Cummins. A locked-room mystery is at the heart of Rogues' Holiday by Maxwell March,
Trapeze
Print/Kindle/iBook
£1.99
CFL Rating: 4 Stars