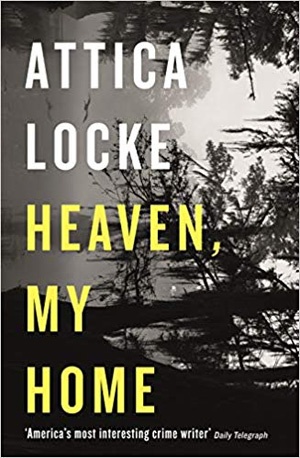 Written by Attica Locke — Heaven, My Home is the second novel featuring Texas Ranger Darren Matthews. This is a series that really should be read in order so if you want to avoid spoilers, you might want to start with Bluebird, Bluebird.
This story has two stands and is set in late 2016, after Trump's election victory but before he has taken office. When a nine-year-old boy disappears after going out on his boat on Caddo Lake, in a swampy region bordering Louisiana, the case is of interest to the Texas Rangers.
Levi King, the boy, is the son of a gang captain in the Aryan Brotherhood. His father, Billy King, is in prison and his mother and sister are living in a trailer with another man. Billy King has supposedly reformed in prison and is hinting that he will be helpful to the ongoing investigation against the white supremacist group if his boy is found.
Darren sees another opportunity. He knows more than he is saying about the murder in Bluebird, Bluebird. He is protecting a longstanding family friend. Meanwhile his mother is hiding the murder weapon and is using it to manipulate Darren. Darren hopes to get close enough to Billy King to get him to take responsibility for that crime thus protecting his friend and avoiding his mother's blackmail.
The last person to see Levi alive was Leroy Page, a black man who had been harassed by the boy. Leroy and a number of Native Americans live on the land, which he owns. They are the descendants of escaped and freed slaves, and fugitive Native American Caddo people who refused to leave their land in the 19th century and built a community together. The very people who are harassing them, the Kings and a few other white families living in trailers, are squatting on Leroy's land.
The setting is stunning. The dark, vast lake, overhung by cypresses and Spanish moss, is beautifully evoked. The nearby town of Jefferson has a claustrophobic feel. Locke contrasts the cod-history of the tourist trade, all antebellum elegance and tragic white heroines, with the real story of oppression and slavery and the survival, against the odds, of Leroy's community, hidden, in all senses, in deep country.
Darren's personal life is highlighted as his relationship with his wife is in flux and his best friend, a white FBI officer, also has an interest in the Levi King case. He believes he can make a case against Leroy Page and frame it as a hate crime against a white victim. The FBI believes this will demonstrate that its team is even-handed and help them survive the incoming Trump presidency. Darren sees this as a betrayal.
The story does take a while to get going, partly because of the need to recap the key events of Bluebird, Bluebird. There are also times in which the mystery element feels a little contrived in its reversals, particularly characters holding back information, including Darren's wife, who is always on the point of sharing a secret which is still unrevealed by the end of the book. Of course all authors use these tricks, but, like in a magic show, you want to be fooled without seeing how it's done.  
The story brings in people of all classes in this small community and though it feels isolated, it is clearly set against the context of national events. Locke powerfully evokes the way that every interaction is defined by race. Darren struggles with his conflicting feelings about the missing boy – a child in need of protection, but one already entrenched in the thinking of the Brotherhood. In the shadow of the Trump victory, he meditates on the role of forgiveness in the lives of black people, wonders which of his friends and colleagues might have voted for a white nationalist.
The other characters are vividly drawn but true to type. There are no big surprises in this story. It might be argued that the time for nuance has passed, that a clear unambiguous moral take is what is needed, that only the comfortable get to enjoy ambiguity.
Check out our selection of the best crime novels set in Texas.
Serpent's Tail
Print/Kindle/iBook
£7.93
CFL Rating: 4 Stars