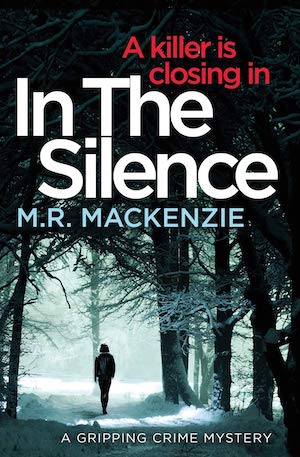 Written by MR Mackenzie — Tartan noir continues to produce the finest of crime fiction and although authors such as Ian Rankin, Val McDermid, and Denise Mina dominate there is new talent coming through. In The Silence sits alongside these heavyweights of Scottish crime fiction with its nomination on the longlist for the McIllvaney Prize. The prologue offers just a snifter of a wintry Glasgow with snow and violence. It's a taste of what's to come.
Anna Scavolini is an academic in criminology but has been away pursuing her career in Rome and hasn't been in the country for 10 years. She has flown into Glasgow for a birthday party with her best friend Zoe. On her first night back she ends up sitting quietly in a corner of a nightclub when she chances into an old crush Andrew Foley. He is six-foot-two and effortlessly cool. It's a brief meeting and they are soon parted.
At the end of the evening Zoe and Anna stagger out into the cold night air. They are heading up Kelvin Way to an all-night cafe when they hear a scream from Kelvingrove Park. A man in a hoodie barges past. Impulsively, Anna ventures into the park and she finds an injured man, fatally stabbed. It is Andrew Foley.
Anna can't resist her making her own enquiries. We are introduced to some characters on the fringes and Mackenzie draws us into the mystery. The police detectives, Norton and Murray, are peripheral to the main narrative. This feels a little odd as we're clearly thrown into a major murder inquiry but Anna is able to ease into her own investigations. Andrew Foley's character is soon being called into question and then more men die.
There are multiple layers here. Importantly, Anna has her secrets too. The ghosts of her past are all in Glasgow. We hear about her mystery meds and the spectre of severe mental health problems aren't too far away. The Glasgow dialect is authentic enough and if you sit and read it you'll sound like a local, but it is trowelled on heavily with some characters. As with any vernacular a little goes a long way and here it's just a little too thick.
You may not warm to Anna right away. It's clear that Mackenzie was aiming at feisty, independent and opinionated, and some of her personality traits become clearer as the story unravels and there are sound reasons for her impulsivity, but as things get going she seems to pick a fight with every character she comes across.
In keeping with Anna's role as feminist criminology there's a strong commentary around violence against women. Indeed the violence depicted in the present day here is all perpetrated against men but it is foregrounding to the pervasive backdrop of female victims. Importantly, given this theme, the main characters are female and this novel would have no difficulty passing the novel equivalent of the Bechdel Test (admittedly a low bar).
In The Silence works over familiar ground and many of the tropes of tartan noir can be found but it has its own qualities. There is a well rendered and atmospheric Glaswegian backdrop, a distinctive female protagonist, and a deftly handled tale that touches on mental health and societal violence. MR Mackenzie has written a very fine addition to Scottish crime fiction.
Check out the latest McIllvaney Prize nominated novels from Ian Rankin, Val McDermid, Chris Brookmyre, Denise Mina, and Douglas Skelton to get yourself up to date with some of the finest Scottish crime fiction in 2019.
Bloodhound Books
Print/Kindle
£8.99
CFL Rating: 4 Stars