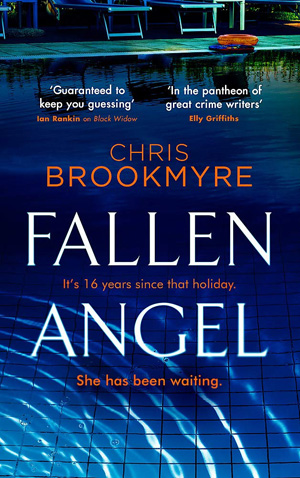 Written by Chris Brookmyre — In an interview with the Independent Chris Brookmyre said, "The most dangerous lies are the ones we tell ourselves." Lies and secrets, in particular family secrets, form the core of his latest novel, Fallen Angel, which tells the story of the Temple family.
The Temples reunite at their holiday home in Algarve, Portugal, for the memorial of Max, the family's recently deceased head. However, there's more to the gathering than just a commemoration. Soon we learn that 16 years earlier, Niamh, the 18-month-old granddaughter of Celia and Max, disappeared under mysterious circumstances. The memorial could be an opportunity for closure, remorse or possibly even confession.
Through the introduction of the various family members and the revelation of their individual secrets, we are drawn into solving Niamh's disappearance. But that's not the only mystery to solve…
Fallen Angel starts off with the narration of a murder scene in an office. We don't know who the victim is, except that he's male and that there's a small needle mark in his neck. This murder isn't mentioned much during the rest of the novel, and you'll temporarily forget about it as the toddler's disappearance becomes the main focus.
Each member of the Temple family could be a suspect, both in Niamh's disappearance and the new murder. Whether it's Celia, the narcissistic, controlling matriarch of the family; Ivy, her ruthless and calculating daughter; or her son Rory, who has a weakness for beautiful women and drugs, and has connections to Eastern European gangsters.
In spite of his absence, the larger-than-life Max Temple, an esteemed, brilliant and formidable academic, is also not exempt from guilt and plays an indispensable part of the narrative. Initially presented as warm and family-orientated, he too had the potential to turn nasty. Could he have been a murderer?
As if the dysfunctional Temples don't provide enough drama the neighbours Vince and Kirsten are added to the volatile mix. Their nanny, Amanda, seems to be the only person who attempts to solve the toddler's disappearance. She starts to investigate the incident and questions why the Temple family are trying to bury their past.
Switching between 2002 and 2018, Brookmyre reveals bits of information to coax you into thinking you know who the guilty person in Niamh's disappearance is. Shifting between narrators throughout the story-line, he each time adds a different perspective for us to take into consideration. Brookmyre will convince you that you know what's going on, when, in fact, you have absolutely no idea.
At times the plot, setting and gathering of suspects are reminiscent of an Agatha Christie novel. Brookmyre is just as skilled at maintaining suspense by feeding you just the necessary amount of information. This entertaining cat-and-mouse-game keeps us engaged and in the end, it's well-worth being the mouse.
It's easy to classify Fallen Angel as purely a crime novel, but apart from entertainment crime novels have the ability to address other issues, whether it's socially, economically or politically relevant. Brookmyre's earlier work was considered satirical and frequently commented on political issues, particularly in the UK.
Even though Fallen Angel doesn't have his earlier trademark satire, it still references actual events, whether it's the disappearance of Madeleine McCann or Obama's birth certificate. The treatment of women, the #MeToo movement, human trafficking and the ethics of media and the tabloids are all overarching themes discussed.
It's the combination of this actuality with a tight, gripping storyline and a host of flawed characters which makes Fallen Angel a clever and entertaining read by one of Britain's leading crime authors.
Even though Fallen Angel is a stand-alone novel and not part of his Jack Parlabane series, Jack does make a minor appearance. However, this one isn't about Jack at all, it's about a host of independent characters who more than make up for his low-key presence.
Also read our interview with Chris Brookmyre.
Little Brown
Print/Kindle/iBook
£9.99
CFL Rating: 4 Stars