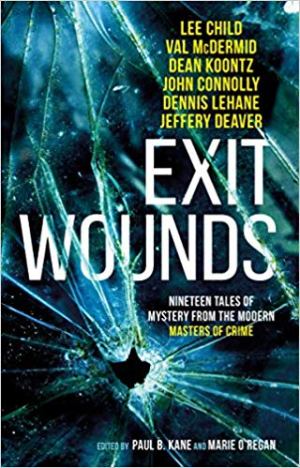 Edited by Paul B Kane and Marie O'Regan — When the cover of a new book of short stories is emblazoned with the names of some of the best-selling and award-winning crime fiction authors – Lee Child, Val McDermid, Dean Koontz, John Connolly, Dennis Lehane and Jeffery Deaver –with even more inside, you know you're in for a treat.
Editors Paul B Kane and Marie O'Regan assembled 19 of the English-speaking world's best mystery writers and asked them for stories that include an exit of some kind – death, abandonment, escape – and of course the damage that sudden departures leave in their wake. The result is the entertaining Exit Wounds. There's nary a dud in the collection, and just a few of the stories are highlighted below.
From the Department of Clever Twists comes Jeffrey Deaver's story of the bullying of a suspect in a string of serial murders. Not only is his life under a microscope, this threatening jerk won't leave him alone! In The Pitcher by Sarah Hilary, a journalist visits an obscure Spanish taverna on England's west coast only to find the place isn't what he thinks it is, nor, fair to say, is his visit. You also may be deliciously surprised by James Oswald's aptly named Dressed to Kill.
The particular pathology of parent-child relationships is the basis for two stories. The opening line of Fiona Cummins's Dead Weight is 'You're not going to eat that, are you?' which tells you all you need to know about this mother-daughter combat, er, relationship. And Dean Koontz's Kittens takes this trope to a grisly extreme.
There's an Edgar Allan Poe-ish vibe to On the Anatomization of an Unknown Man (1637) about an apocryphal painting of a vivisection lab by Dublin author John Connolly. Take My Hand by AK Benedict involves something Poe would have loved, a Hand of Glory. If you don't know what that is, you might want to Google it. A sure-fire conversation-stopper.
Also at the creepy end of the spectrum is Martyn Waites's Disciplined, about a man very good at one thing: following orders. It begins, 'It was swallowing the needle that changed everything' and takes off from there. Paul Finch's The New Lad recounts the experiences of a policeman, first day on the job, assigned to watch a crime scene alone overnight outside a derelict mental hospital. In the woods, no less. I thought I'd have to stop reading, the tension got so acute…
The characters in some of the stories have different strategies for taking justice into their own hands – for better or, in the case of Val McDermid's Happy Holidays, for worse. Florida apprentice bounty hunter Lori Anderson is featured in Steph Broadribb's story, Fool You Twice. (In real life, Broadribb trained as a bounty hunter in California.)
I really enjoyed Mark Billingham's coming-of-age story, Dancing Towards the Blade, about a young man who's lived in two totally different worlds – in Africa and England – and who is absolutely not who his London tormentors (those bullies again!) think he is.
Crime goes way wrong in Joe R Lansdale's amusing Booty and the Beast. Lansdale lives in the American southwest, so when he talks about fire ants, he knows whereof he speaks. Enough said.
Finally, you may feel you've encountered the welcome shade of Raymond Chandler in Dennis Lehane's surprising story The Consumers: "When she let (her hair) fall naturally, with its tousled waves and anarchic curls, she looked like a wet dream sent to douse a five-alarm fire."
Also try Teresa Solana's The First Prehistoric Serial Killer and Other Stories or Alive in Shape and Color edited by Lawrence Block.
Titan Books
Print
£7.03
CFL Rating: 5 Stars