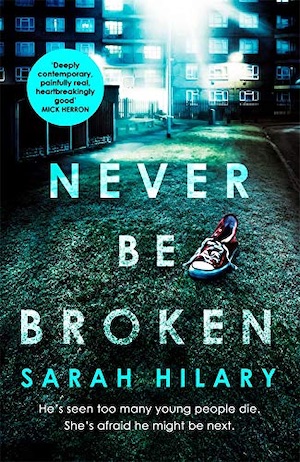 Written by Sarah Hilary — Hot on the heels of Vicky Newham's Out of the Ashes comes another police procedural novel set slap bang in the heart of London and featuring a female Met detective as its main protagonist. Unlike Maya Rahman, who is only on her second book, this character is one we know pretty well. After all, we're at number six in the Marnie Rome series and fans have followed this DI's story with interest.
So they may be a little disappointed to see Rome taking something of a back seat in Never Be Broken. Commanding centre stage this time is her sergeant, Noah Jake – and he's in a pretty pickle if truth be told. At the end of the previous book, Come and Find Me, Noah had just lost his brother Sol, a victim of prison violence. In a bid to get his younger sibling away from the clutches of street gangs, Noah had Sol arrested and remanded somewhere 'safe'. Those best intentions blew up in his face and he's haunted by what he did… and by Sol too.
Throughout this book, a deeply grieving Noah spends a fair amount of time in conversation with Sol. He knows his brother is a figment of his imagination, but that doesn't make Sol any the less real to Noah or, indeed to the reader. Hilary manages to pull off a clever balancing act here and scenes that could have become mawkish or maudlin in another lesser writer's hands instead have an air of poignant despair.
Noah is grieving the loss of his brother and is in the hands of Dr Karie Matthews of the Met's Occupational Health and Welfare department. He's battling to get back to some semblance of normality, but the people who know and love him can see through the flimsy facade and want to help. Is Noah man enough to let them in?
Meantime, he's determined to get stuck into work, but Rome and her team are embroiled in combating the gang warfare that's plaguing London – not really a great way for Noah to take his mind off his troubles, is it? Young people are dying on the streets of the capital, kids who are being used and abused by the gangs who befriend and then discard them like an empty bag of crisps.
The headlines are muted on the down-page stories about knife crime and street violence – until Raphaela Belsham, a pretty, white, middle class 13-year-old is shot on the street. Suddenly, everyone is taking notice and Rome and her team are under mounting pressure to find the killer.
Raffa was a quiet, idealistic girl with a strong sense of justice. Could her trips to visit elderly residents of troubled Erskine Tower have something to do with her death? When a search of her bedroom throws up a shocking discovery, the police begin to see the youngster in a different light. Then Noah is witness to an horrific death at the tower block and his fragile shell begins to crumble…
Never Be Broken is a book set very much in modern-day London, taking its cue from the stories that pop up regularly on your newsfeeds. The settings are dazzlingly realistic and every character, whether at the heart of it all or a mere passer by, is accurately drawn and jumps off the page.
My only quibble about this novel is that there's not enough Marnie Rome. Over several books we've been building up to a climactic scene with Rome and her foster brother Stephen Keele, who is in prison after killing Rome's parents when he was a teenager. They've been to-ing and fro-ing for years now, but the chapter where the two meet seems rushed and left me a little flat.
That aside, Never Be Broken is a book that will keep you on your toes from beginning to end. Roll on book seven!
The Rome and Jake story began in the award-winning Someone Else's Skin. For more crime in the heart of London, take a look at Sharon Bolton's A Dark and Twisted Tide.
Headline
Print/Kindle/iBook
£12.94
CFL Rating: 4 Stars