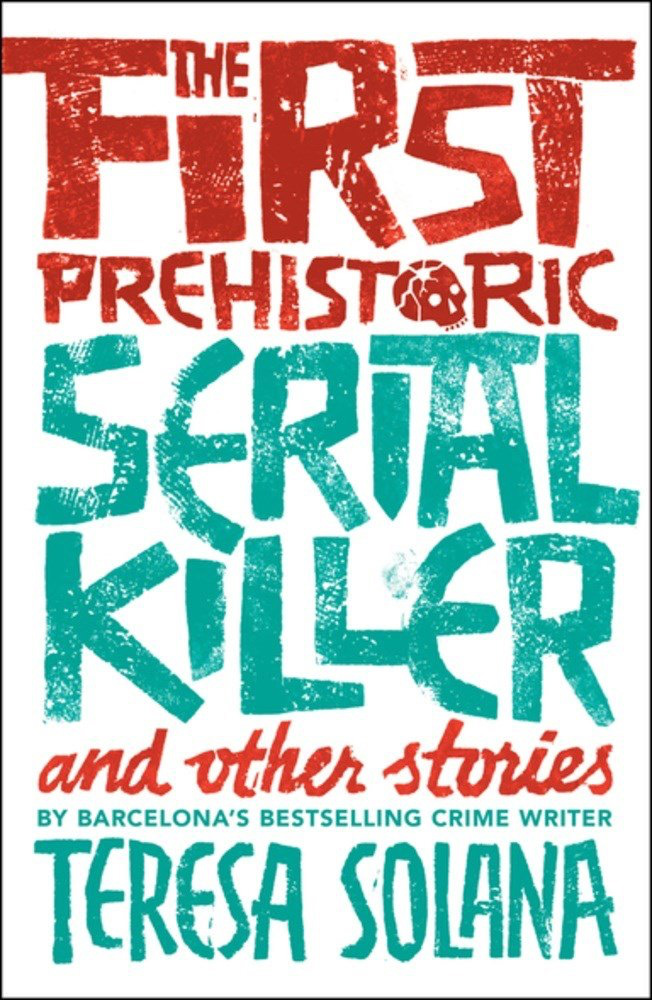 Written by Teresa Solana, translated by Peter Bush — How can you resist a title like that? Even if you prefer your crime fiction long and dark, this collection of grotesque short stories is well worth your time. Teresa Solana has already established an international reputation as a Catalan crime author and Bitter Lemon Press has published several of her novels, including the imaginatively entitled The Sound of One Hand Killing. Her love of zany, surrealist touches and black humour shines through in her novels, but it's in this short story collection that it really comes to the fore.
The book is actually made up of two parts. The first, Blood, Guts and Love, contains tongue-in-cheek riffs on traditional crime and horror fiction themes. In the title story, a prehistoric detective is asked to investigate a triple-murder which is threatening to disrupt cave life. The only reason he is assigned to this task is because he is pretty useless at hunting. As his suspicions solidify, he becomes not only the world's first detective, but also the first religious charlatan. He might even consider inventing psychoanalysis – after all, it's not like he has anything better to do. In the other stories in this section, ghosts try to keep a house to themselves, an exhibition organiser is fooled by far too realistic works of decomposing art, two nice old grannies become vengeful killers and a vampire feels out of step with the modern world.
So far, so crazy. Best sit back and enjoy the wild ride! The emphasis in the first part is very much on improbable situations, and the comic effect arises from the deadpan voice of the unlikely narrators. These light-hearted and utterly weird tales are probably a crime writer's holiday.
In Connections, the second section, things become less eccentric and decidedly more noir. The author takes us back to Barcelona for a series of inter-connected stories of murder and betrayal. Taken all together, they represent a mosaic of contemporary Barcelona life, or rather, the less savoury aspects of it. It is up to you to spot the connections, which in some cases are not at all obvious. Each story is self-contained and has a clever little twist, but it's when they are taken together as a whole that the satirical picture of Solana's home town emerges. Barcelona is described as a city of contrasts, of strong opinions, full of people on the make, hustling not just in order to survive, but to maintain their comfortable lifestyle or to keep boredom at bay.
The criminal underworld mixes uneasily with the wealthier classes. A spoilt little rich girl witnesses a shooting in a pharmacy. A British diplomat tires of his less-than-ideal second wife. A woman is desperate to get out of her opera-going duties. An interpreter sees rather more than she bargained for while working for an international drug cartel. Four women in prison at first mock but later on are terrified by a posh new inmate. A builder discovers an unpalatable truth in an old house he is renovating. Most of the stories have a satisfying conclusion, but a few end on an ambiguous, unsettling note.
This is a very original take on crime stories, great fun to read and an excellent introduction to Teresa Solana's work.
Also see The Barcelona Brothers by Carlos Zanon. For translated crime with a side-dish of humour, you may want to explore Antti Tuomainen's The Man Who Died.
Bitter Lemon Press
Print/Kindle/iBook
£5.03
CFL Rating: 5 Stars