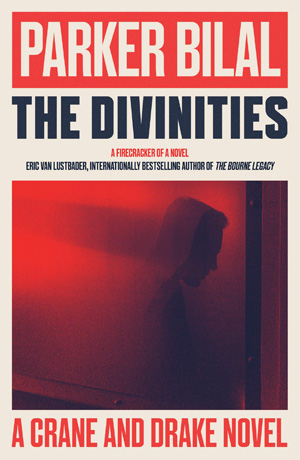 Written by Parker Bilal — With The Divinities, Parker Bilal starts a new police procedural series involving the interesting duo of Calil Drake, a detective with the Metropolitan Police in London, and Iranian-born forensic psychologist Dr Rayhana Crane.
When a ton of rocks crushes a man and woman at the bottom of a swimming pool under construction in Battersea, Drake is called in, though it's Crane who wonders whether the avalanche of stone is merely a mechanised form of the ancient punishment of stoning.
The dead woman is the wife of the wealthy property developer who is turning this near-waste ground into a luxury apartment complex. The link between her and the Japanese man whose body is found alongside her is a mystery. In early interviews with the family and employee of the deceased, Drake doesn't ask many of the obvious questions about the victims' past that would have revealed that connection. Nor does he ask about the friend the woman was supposedly going to the theater with on the night she died. That person, presumably, was the last to see her alive. Only much later is it revealed that the police know, by means unspecified, that the victim didn't show up at the theatre at all.
Although there are a few subtle hints about his mixed-race identity, Calil Drake is called Cal, and the author doesn't clarify until well along that he had a British mother and Sudanese father or that as a teenager he had embraced Islam. This sheds a very different light on his rocky relationships with other police detectives.
As first-on-scene, Drake pleads with his superior to be assigned the dual murder case. He needs a success in his pocket to overcome a previous career-stalling episode. His chief makes it clear he has only 48 hours before the case will go to the Homicide and Major Crimes Command, where DCI Pryce is itching to put Drake in a bad light. Much is made about this 48 hours, yet that time passes without any increase in narrative urgency. Cal and the pair of younger officers who work under him banter amusingly, though too frequently. Practically every interaction prompts a wisecrack.
The investigation is complicated, and for some reason Cal links the murders to an ethnically diverse neighborhood he grew up in. Tensions are high there, and a former synagogue that has been turned into a mosque was recently torched. The author does a nice job setting up the fraught community dynamics in a mixed neighborhood, highlighting certain individuals, young and old, and the informal albeit pivotal roles they play in the community. However, Drake's antagonist should have been more nuanced. Even though a certain type of man may exist in real life, it doesn't make him an effective and believable character in fiction.
A police procedural needs to develop a clear logic chain, and this novel fails to do that at both the larger plot level and within individual conversations. Drake's reasons for interviewing whom he does, when he does, and the questions he asks feel quite ad hoc. Perhaps that's due to Drake's drinking on the job – a crime fiction cliché overdue for retirement. The author says Drake understands the killer's motivation instinctively but more evidence in the case would have strengthened the procedural credibility of the novel. At the conclusion, numerous significant plot threads remain untied, perhaps to be the subject of future Drake/Crane novels.  
Parker Bilal is the pseudonym for literary fiction writer Jamal Mahjoub, himself a mixed-race son of Sudanese and British parents. He's won prizes for his literary novels and short stories and since 2012, as Parker Bilal, he's written seven crime novels. Yet, mysteriously, the literary flourishes that frequently crop up in crime fiction do not appear here. Certainly nothing like Chandler's "It was a blonde. A blonde to make a bishop kick a hole in a stained-glass window"; none of the flights that strengthen the storytelling of Angel Luis Colón or James Lee Burke; none of the clarity of Val McDermid. You may want to like these interesting lead characters. Now if only future stories do them justice.
There are similar themes and challenges in Michael Brissenden's The List and Ausma Zehanat Khan's The Language of Secrets.
The Indigo Press
Print
£8.46
CFL Rating: 3 Stars