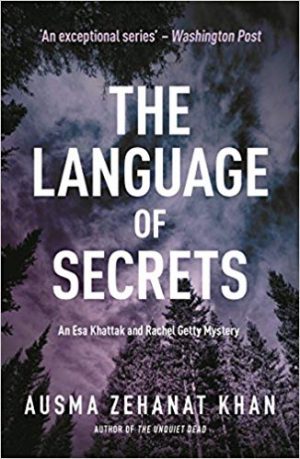 Written by Ausma Zehanat Khan — Now out in paperback is Ausma Zehanat Khan's second Toronto-based thriller featuring Esa Khattak,  head of the Community Policing Section, and his sergeant and chief sounding-board, Rachel Getty. Winter is coming on, but the atmosphere is hot. The Integrated National Security Enforcement Team is trying to thwart a rumored New Year's Day terrorist attack. They've used a Muslim intelligence officer – a close friend of Khattak, Mohsin Dar – to infiltrate the group planning the attack and the intel is pouring in… that is, until Dar is murdered.
Khan does a good job vividly describing the icy, remote location where the murder and several other key scenes take place, as well as the cramped urban mosque where the plotters are believed to meet. In selecting Toronto as the setting, Khan achieves a refreshing change from stories based in New York, London, and Las Vegas.
The ringleader of the suspected terrorists is a charismatic but evasive man named Hassan Ashkouri. He tends to speaks in riddles and poetry, and it was helpful having Dar in position to decode his messages.
Now Khattak has been tasked with finding his killer. But Inspector Ciprian Coale, who heads the team trying to prevent the terrorist attack and who believes Khattak received the promotion that should have gone to him, is determined to thwart his investigation at every turn and undermine his standing. He's not above suggesting that Dar may not have been playing straight with him and hints that Khattak might be equally unreliable.
Politics is thus intertwined with many aspects of this story, and every move Khattak makes – every arrest, every attempt at community outreach – is subject to political interpretation, often malicious, by his rivals, by the news media, and even by the minority communities it is his job to serve. This slant on police work give his investigation an appealing timeliness. However, the author occasionally stops writing fiction in order to present mini-essays on various political topics.
Khattak has a full plate: investigating Dar's murder, trying to keep Dar's firebrand radio pundit father from blowing up on air, dealing with the hostile Ciprian Coale and, worse, Coale's number two, a woman who once filed bogus harassment charges against Khattak and whom he trusts not an inch. They don't cooperate with Khattak, and they don't give him information. Thus, it's a near-certainty that the murder investigation cannot stay carefully contained and that it will become entangled with the terrorism investigation. Coale and his team are just waiting for Khattak to make such a misstep.
On the personal front, Khattak has problems too. His sister Ruksh has a new man in her life, one she plans to marry – the terrorist leader Hassan Ashkouri. Her reflexive hostility toward her older brother and her defiant determination to pursue the relationship despite his reservations is a little hard to believe. She acts more like a sulky teenager than a grown woman. Although Khattak cannot tell her why he objects to Ashkouri, he's sure Ciprian Coale has her in his sights as yet another likely collaborator with terrorists. Coale is another character whose attitude – his implacable antipathy toward Khattak – seems over-the-top.
Rachel Getty, Khattak's sergeant, is an appealing character. Although Khan gives her an interesting background as a competitive hockey player with an important all-star game coming up soon, she doesn't go to hockey practice once during the entire novel. Because Khattak is so well known, Getty gets the job of infiltrating the plotters in order to find out more about Dar's murder. There she meets a number of distinctive, well-drawn characters.
Although the desire to learn the fates of these characters was enough to keep me reading, Khan has a bit of a problem in writing clearly. Though her prose is murky at times, at other times she telegraphs too much, using the authorial voice to announce, for example, that someone just made a big mistake or was beginning to understand something. These are insights better conveyed through characters' thoughts and actions.
As a bottom line, this book contains interesting characters and situations that carry you through the uneven patches in the writing.
For more Canadian crime fiction try Roxanne Bouchard's We Were the Salt of the Sea or the clever cosy from Judy Penz Sheluk, A Hole in One. Or check out the all-time best in Canadian crime fiction.
No Exit Press
Print/Kindle/iTunes
£4.31
CFL Rating: 3 Stars