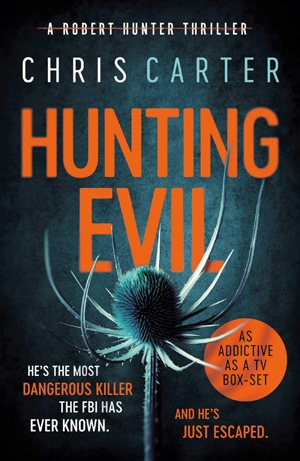 Written by Chris Carter– If you're looking for cosy crime and untroubled sleep, best keep away from Chris Carter and his Robert Hunter series. Carter is well known for his dark and deadly psychological thrillers, and fans of his books won't be disappointed here.
However, if you haven't read the complete Hunter series you could be at a disadvantage. In his introduction to this book, Carter himself recommends you read An Evil Mind to fully grasp the history between Hunter and his adversary in Hunting Evil, Lucien Folter. Yes, these two have met before. Undaunted, and unfamiliar with An Evil Mind, I stepped right up to the plate and got stuck in.
As Hunting Evil opens, we're at Lee High Security Prison in Virginia. The shift is about to change and as Jordan Weaver arrives to take over from his colleagues he's shocked to find the control station empty, the door wide open. Then he spots the blood spatters running down the inside of the bulletproof glass windows… Inside are the naked bodies of three of Jordan's colleagues. Soon, he is to become the fourth victim – and in dramatic style. It's the first sign that Chris Carter is on fine form.
The only inmate in the wing was mass murderer Lucien Folter. He's gone, and the life of Robert Hunter, head of the LAPD's Ultra Violent Crimes Unit, is about to get even more troublesome than usual. As the news comes through about Folter and the carnage he has left in his wake, Hunter and his partner, fellow LAPD detective Carlos Garcia, are meeting with Adrian Kennedy, the head of the FBI's National Center for Analysis of Dangerous Crime.
It's Kennedy who takes the call about the man he describes as 'evil in human form', and he immediately calls upon Hunter for help in catching Folter – a prolific and dangerous serial killer who killed hundreds of people over a number of years before being apprehended and jailed three years ago. Hunter's having none of it. He has his own job to consider and he wants nothing to do with Folter, a man who was once his friend, mentor and roommate when they were at Stanford University.
Folter, however, has other ideas, and soon the pair are locked in a cat and mouse game that will have you on the edge of your seat. Blood is about to be shed by the truckload. Folks, this is gonna get messy. Carter plays with our emotions like an offshore fisherman with a prize marlin. As the action ebbs and flows between the viewpoints of both hunter and hunted, he adeptly reels you in one moment, only to toy with you on the very next page. Be warned, there are some heart-stopping moments ahead.
Setting much of the action in Los Angeles works well, and fans of Harry Bosch will recognise many of the areas used here. The dialogue is snappy and every character jumps from the page as the action bowls along at pace.
This is my third foray into the dark and twisted world of Chris Carter and it's probably the most unsettling ride yet. Hunter is a cool and clinical operator who can lack emotion at times, but here we find him truly rattled. Be prepared for some downright gut churning moments – well, it wouldn't be a Chris Carter book without them, would it? Surprisingly though, there are light hearted moments too and in the most unlikely of scenarios. Let's just say that this book contains nudity and leave it there…
Hunting Evil can be taken as a standalone and it'll work perfectly well, but the great thing about Robert Hunter is that he develops though each book – so why not commit to the series as a whole? Me? I'm off to procure myself a copy of An Evil Mind.
Enjoy a serial killer thriller? Take a look at our pick of 10 of the best. For more dark and twisted crime fiction, try Her Last Move by John Marrs.
Simon & Schuster
Print/Kindle/iBook
£7.99
CFL Rating: 4 Stars