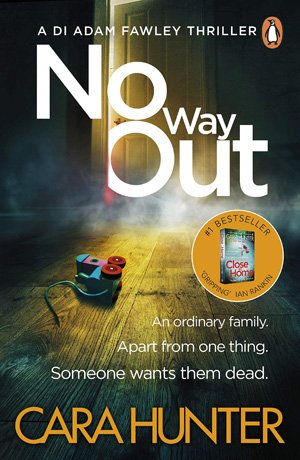 Written by Cara Hunter — Some police procedurals place the reader on the periphery, leaving us hanging about outside the flapping crime scene tape, not really knowing what's going on. Not so with Cara Hunter's DI Fawley series – here, you're slap-bang in the heart of the action.
Can it only be a year since we met Hunter and Fawley? We're already on book three, and with No Way Out, this author has really hit her narrative stride. It's Christmastime and at a quiet family home in North Oxford the worst has happened. There's a fire and it is feared that the two adults and two children who occupied the property are still inside.
Cue some dramatic scenes as we search the rooms with the harrowed firefighters. First, the lifeless body of a small boy is found. Then another older boy, barely breathing, is dragged out of the smouldering wreckage and rushed away in an ambulance, his life hanging by a thread.
But where are the parents? Michael and Samantha Esmond doted on their sons Matty, aged 10 and three-year-old Zachary. Could they really have left the boys home alone? The mystery is soon in the hands of DI Adam Fawley and his team, and while the fire investigators sift slowly through the remains of the Esmond's home, the police are soon up against it – because all the signs are that this was no accident. It was murder.
Little by little, the police investigation begins to take shape, with suspicion ebbing and flowing as tiny wee pieces fall into place. The great thing about a Cara Hunter book is that this takes a starring role and we're privy to every step and misstep along the way. I love how this author breaks up the general narrative by inserting into the book newspaper articles (complete with readers' comments), official reports and jotted down notes. It makes the momentum stutter and stall and spurs you on to read more.
Also interspersed through the police investigation are assorted flashbacks which help to explain the background to the fire and some of the family's history. These are illuminating, but at times a little confusing – there's information coming from all directions and it's hard to keep everything on track.
At the heart of it all is Adam Fawley, and over three books we've come to know him pretty well. Outside of the job, his life is falling apart at the seams. He and wife Alex are still grieving the loss of their son, who committed suicide while still a child. In this book they are separated and that gives Fawley an aura of vulnerability which feeds into his treatment of the case.
His team also play a huge part and we're gradually getting to know them too as the series progresses. This time, there's added tension as Acting Sergeant Gislingham takes charge, with demoted Sergeant Quinn trying his utmost to undermine his new superior officer – a situation that leads to fireworks, as you might imagine. It's just another little nod to realism, which is what makes Cara Hunter's books so compelling. There is a hefty cast of characters, but each one is well drawn and springs to life from the page.
All this, coupled with a plot that keeps you guessing, makes No Way Out a novel to savour. If police procedurals are your thing, then I recommend you make a date with Cara Hunter and DI Fawley. The finale of this latest instalment has teed us up nicely for book four. Can't wait so see what that one may bring!
Fans of the police procedural should try RC Bridgestock – read our review of White Lilies here. Oxfordshire is also the setting for MJ Ford's police procedural, Hold My Hand.
Penguin
Print/Kindle/iBook
£0.99
CFL Rating: 4 Stars