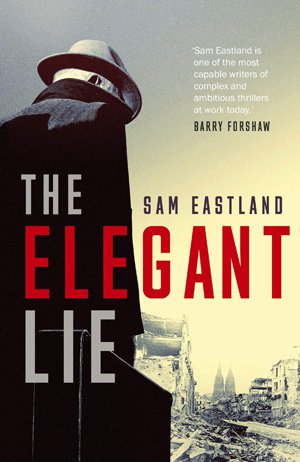 Written by Sam Eastland — The year is 1949 and Nathan Carter walks out of prison in Cologne and into the nascent Cold War. Back in the States, Carter was an undercover police detective tasked with infiltrating union dock workers. His cover was so deep and his lies so all-encompassing that his previous life appeared to dissolve away leaving Carter not sure sometimes as to who he really is.
When America joined World War II, Carter was suddenly co-opted into the Military Police and sent abroad to investigate the theft of government property – specifically gasoline. In late 1944, his duty took him to Liege, in Belgium, to investigate the theft of an Army truck carrying over 2000L of fuel. Incredibly, it appeared to have been driven right across the border towards the German forces without any attempt by Allied soldiers to stop it. Carter's investigation forms a secondary narrative and helps to explain his presence in prison in 1949.
On leaving prison, he is stopped by an imposing German man. Ritter wants to take Carter to meet his boss, Hanno Dasch, who has a business proposition for him. Carter's criminal record, for the smuggling of Army property, has brought him to the attention of Cologne's most successful black market racketeer. Dasch wants Carter to be his contact for American contraband because he's spotted an opportunity. As Allied forces are pulled out of Germany, there is a surfeit of food, clothing and other supplies that aren't worth flying back to America, and it would be such a shame for it to go to waste…
This is an opportunity Carter, too. Dasch represents possible salvation. Carter's 1944 investigation threatened to embarrass the Army, and he was made a convenient scapegoat. He avoided a prison sentence, but his reputation back home in New Jersey was trashed. Carter had reconciled himself to a lonely exile in Europe working on the American bases after the War when he was approached by two men from the CIA. Their offer, which is really quite impressive in its ruthlessness, is that in exchange for repairing Carter's reputation and thus allowing him to return home after his job is completed, Carter has to serve nine months in prison on fake charges of smuggling, and on his release, infiltrate Dasch's gang. Dasch is an embarrassment to the Allies, and if news leaked back to America about the amount of corruption taking place public faith in the American presence in Europe – a necessity to counter growing Russian influence – could be undermined.
Eastland's prose is clear and direct, and he displays a mastery of historical detail and an easy ability to explain the social and political tensions present as the novel takes place. This also helps to avoid any confusion with the dual narratives, though the lack of any clear chapters is an unnecessary distraction.
Carter has two CIA handlers, Eckberg and Wilby, and each seeks to undermine the other. There are tensions in the local HQ, and the suggestion is that there may be a Russian mole at work. Carter, one step removed from events by his undercover status, doesn't know which theory to trust.
Deceit, self- deception and the effects on a person of being cut off from others are strong themes in this book. We see Carter struggle to keep himself sane in prison as he waits to see if the CIA will honour their deal and have him released, and the struggle he has trying to hide his feelings for Teresa, Dasch's daughter. Even when he makes his escape at the end, it is done under another's identity.
The description on the back of The Elegant Lie led me to expect an explosive post-war thriller, and I wasn't disappointed, but the book is so much more. It's packed with drama, explores complex emotions with keen insight, and adds a satisfying romance.
See also A Darker State by David Young, Nucleus by Rory Clements or Philip Kerr's Bernie Gunther series.
Faber & Faber
Print/Kindle/iBook
£4.68
CFL Rating: 4 Stars