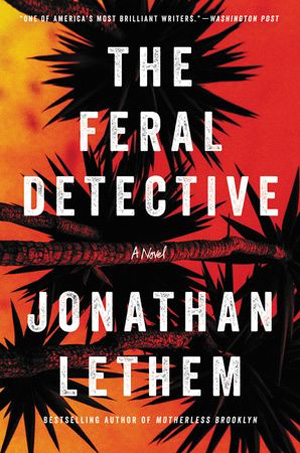 Written by Jonathan Lethem — Noted author Jonathan Lethem, who has been called one of America's greatest storytellers, returns to crime fiction with his new novel, The Feral Detective. It opens with the narrator, Manhattanite Phoebe Siegler, searching for her best friend's teenage daughter, Arabella, who has disappeared from Reed College and whose trail has led to the small California town of Upland, east of Los Angeles. It's at the edge of the San Gabriel Mountains, a short drive to the mountains' highest peak, Mount Baldy, and within striking distance of wilderness and desert, vividly described settings as bleak and untamed as the situations Phoebe will encounter.
The local police, loathe to put any energy into a search for Arabella, pass Phoebe on to a social worker who specialises in runaways, and the social worker refers her to The Feral Detective, Charles Heist. Phoebe's told that although Heist's methods are unorthodox he's a good man on a cold trail, an expert in rescuing runaways, abused children and teenagers snared in cults or human trafficking networks. In fact, Phoebe learns, there's one such lost teen living in an armoire in his office.
Heist's unique set of skills and experiences set you up for a strange romp through the underbelly of California society. Scanning Heist's unpromising office building, Phoebe says, "To make an appointment here was to have dropped through the floor of your life, out of ordinary time. You weren't meant to be here at all, if you were me." There's a boatload of truth in that observation.
Phoebe's New York temperament is distinctly at odds with that of the Californians. She pegged it; she wasn't meant to be there. But Phoebe already has dropped through the floor of her life, first by quitting the newspaper where she was a low-ranking newsroom employee because she could not tolerate the prospect of the Trump presidency. She can't get over how many Californians she meets who are not similarly outraged at the outcome of the election – people who seem to hardly know a presidential election has taken place.
Now she's 33, with no immediate employment prospects, a lot of anger, and dubious romantic feelings about Charles Heist. Her wisecracking is balanced by despair. It's a reflexive defense against her existential pain, a weak shield against reality, and Lethem lets her be defensive, show poor judgment, and lash out when it would be better not to. You might want to tell her to shut up from time to time.
Road trips into the area surrounding Upland, with and without Heist and his three rambunctious dogs, lead her to some sketchy places and characters. A Buddhist retreat where Arabella may have hidden out, whose atmosphere, Phoebe says, evokes a mountain resort after the neutron bomb. A homeless encampment where people living way off the grid provide tantalising hints of having encountered the missing girl. Heist has mysterious connections with these troubled people that the New Yorker cannot understand.
Eventually they trek high up onto Mount Baldy, where they find two embracing teenagers, one dressed in rabbit fur and the other in bear fur, lying in a pit, their throats slit. The hunt for Arabella becomes even more desperate, and Heist seems to know much more than he's saying about what happened to the couple and about how Phoebe's own safety may be at risk.
By this point Phoebe has rather fallen for the feral detective, a man of few words and excellent dogs. Their mismatched relationship is likely to go awry, yet might be possible. He might give her the anchor in life that she so obviously needs. You finally learn Heist's history and why he is good at what he does and the risks he takes to do it. By then, the story has long moved past Arabella and into the terrain of people who live outside the law in an atmosphere that Phoebe describes as utter seething menace.
Lethem writes strong prose, with more than a sprinkling of appreciation for the ridiculous. Lovers of literary crime fiction will find Lethem has created interesting and engaging characters in Phoebe and Heist, as well as an array of distinctive secondary characters whose fates are worth caring about. He never lets up in describing people, places, situations, and feelings in fresh and memorable ways.
His previous detective fiction, Motherless Brooklyn, which won the National Book Critics Circle Award, took on the spectacular challenge of describing events from the point of view of a man with Tourette's syndrome – sympathetically. In his new work, the characters are less overtly damaged, but the damage is not far below the surface.
For other stories about off-the-grid faceoffs, see Bearskin by James A McLaughlin, Bull Mountain by Brian Panowich and Tapping the Source by Kem Nunn.
Atlantic Books
Print/Kindle/iBook
£5.69
CFL Rating: 5 Stars