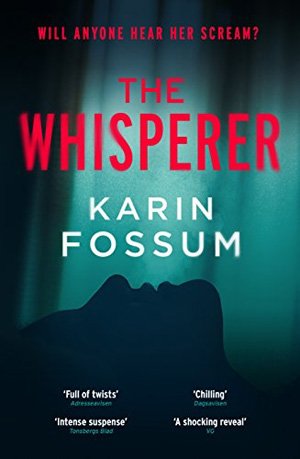 Written by Karin Fossum — You are going to die. It's a fact. It's also a frightening statement and one that can and should be taken as a threat when it's written on a note that's been shoved into your mailbox. Just such a note is what has Ragna Riegel terrified. It has upset her so much that she's committed a heinous crime and as The Whisperer begins she is recounting her story to Konrad Sejer of the Norwegian police. We don't know what that crime is and so while we have seen whodunnits and whydunnits before, now Karin Fossum brings us the whattheydun.
Ragna is an incredibly shy and introverted woman. She lives alone, and works in a discount shop that sounds a bit like Poundland or K-mart. Her life is dominated by routines. For example, she must sit in the same seat on the bus every day, and if she doesn't it will really throw her. She strictly limits her contact with other people, but she has a good reason for this. Ragna is disabled. Years ago, a bodged operation on her throat destroyed her voice box. She can only whisper, and the difficulty she has in communicating deters her from interacting with others.
The question is: who would want to kill her, and why? She must be the least offensive woman in all of Scandinavian crime fiction.
As usual, Norwegian author Fossum has created a fascinating and troubled central character. From the very beginning, you are taken right into Ragna's mind as she explains every thought and feeling she experiences. Sometimes, you're with her in the present as she talks to Sejer and observes the ageing detective and his dog Frank, who has a basket right there in the office. Then the story will shift back to her past experiences as they happened in the build-up to the crime, and long before. Though it's told in the third person, you'll soon feel very close to Ragna. You'll sympathise with her fully, and if you live alone like she does you might even identify with some of her thought patterns.
On top of her disability, she hasn't had an easy life. A main focus is her son, who left home at 17 and moved to Berlin. He's in the hotel industry and Ragna is convinced he's worked his way to the top. What's odd is that she hasn't spoken to him in over a decade, though he sends her a Christmas card every year and she thinks of him constantly. The boy's father is not in her life. He was a Swedish photographer, who took advantage of her at a party when she was 16.
You'll ride a rollercoaster of emotions with Ragna as her past is revealed and she justifies her unusual approach to life. Despair and regret are there, alongside some little hints of happiness, and plenty of confusion and obfuscation. And… an increasing sense of anxiety. When the retelling jumps to the period just before Ragna's crime, we see a life in turmoil. More threatening notes arrive, and Ragna starts to regard people at work, in her neighbourhood and even passers by as a threat. However, instead of going to the police with the notes, she puts them in the wood stove. Her logic is that by burning them she will eliminate the threat. But she's wrong, and soon her fragile life, alone in the family home she inherited from her deceased parents, is becoming increasingly unhinged.
Ragna isn't one of those characters that you want to shout at or shake out of their irrational behaviour. You'll have your suspicions early on that things aren't right with her, and that it runs deeper than her inability to do anything but whisper. At various points in the story, Fossum takes us through some of Ragna's repetitive behaviour, such as watching a video of a suicide on YouTube again and again. The jumper gets up and Ragna believes it was all faked. You'll start to wonder what's real to her, and what isn't.
Like previous novels in the series, Sejer's role is to question, analyse and rationalise what his suspect has or hasn't done. Here, however, Fossum plays with the form of the novel and Sejer is far less present than in the other stories. It's really Ragna's tale with Sejer fading in and out as the interviews and her recollections progress. However, although Ragna tests his patience, his humanity and his sympathy for her are seen more clearly here than in any previous case you've read. He and Frank have both mellowed, and maybe Karin Fossum has too.
The question is, have you mellowed enough for this novel? It'll involve you emotionally in Ragna's struggle – which you'll find out more about late in the story – but even so this book is about 100 pages too long. Elements of repetition are understandable, and they help you and Sejer build up a picture of Ragna's mental state, but the story's own build-up is too extended. The writing is excellent, the character is fascinating, and her unravelling is spellbinding when it is eventually revealed. Mental health is a key topic in the headlines at the moment and few authors understand the topic as well as Karin Fossum. However, The Whisperer is definitely a slow burner. If you're new to Sejer, start with an earlier novel in the series, or perhaps with book one, In the Darkness.
Find out more about Inspector Sejer in our complete guide to the series.
Harvill Secker
Print/Kindle/iBook
£7.99/$10.21
CFL Rating: 3 Stars