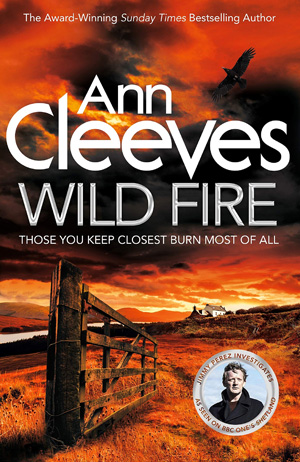 And now the end is near and Jimmy Perez faces the final curtain… Yes, Ann Cleeves has certainly done it her way by announcing the end of the Shetland series, which began with Raven Black in 2009. There are eight books in all – considered a lucky number in some cultures, but decidedly unlucky for the poor Shetlanders who've met their end within the pages and in the television series adapted from the books.
Wild Fire sees both an incomer and a local bite the dust in a story that highlights the insular quality of the islanders themselves. The Fleming family are English and have moved into an old farmhouse, the architect husband, Daniel, transforming the place in a Grand Designs kind of a way. He and wife Helena have a young daughter, Ellie, and an autistic son, Christopher, which also sets them apart somewhat. And their search for a peaceful new life gets off to a shaky start when the elderly former owner of the property hangs himself in their barn. Not quite the shiny new beginnings they envisaged when upping sticks from London.
Helena calls around to see Jimmy Perez after she begins receiving cryptic anonymous messages – stick men hanging from gallows, meticulously drawn on graph paper. Who is behind the notes and what do they actually mean? The scraps of paper, and their significance, are pushed aside when another body is found hanging in the Fleming's barn. It is Emma Shearer, an Orkney girl who worked as nanny for local doctor Robert Moncrieff and his PR wife Belle, and Christopher finds her.
Any thoughts of suicide are quickly dismissed. The body is too high and there is nothing that Emma could have stood on to get up there. It's murder, and soon Perez and his second in command Sandy Wilson are joined by their boss Willow Reeves, Chief Inspector of the Serious Crime Squad, based in Inverness. Perez and Reeves have a history and Reeves has some news to share with her former lover. What passes between them sours a previously harmonious working relationship and hangs over this story like a brooding storm cloud.
The team struggles to get a coherent picture of the dead woman, who had worked for the Moncrieffs for a number of years but seems to have made barely an impression on the couple and their children. She liked to dress in 1950s style and cut quite a dash in her home-tailored garments – attracting the attention of more than one male admirer. Could the killer be on-off boyfriend Magnie Riddell? Or even Daniel Fleming, who admits to having been obsessed with Emma? Just as the evidence begins to fit together, the case is thrown into disarray by another murder. Shetland, it appears, is still a dangerous place to live.
The rough, oddly beautiful landscapes take centre stage in this book. They're lovingly described by an author who has come to know them intimately over the years, and I hope Cleeves will return to the Scottish Isles for a book at some time in the future. These stunning settings play a huge part in a book that is as intricately drawn together as a Fair Isle sweater.
In among it all, there's a vital plotline featuring Reeves and Perez, but it plays second fiddle as the body count rises and tension ratchets up a notch or two. For me, it unbalances a story which should by rights have Perez front and centre. It is his farewell, after all. It's my only real quibble in a book that is vintage Cleeves, complete with red herrings and neatly negotiated twists and turns. As to the ending? I'm giving nothing away – best read it for yourself…
Read our interview with Ann Cleeves, and also check out Peter May's Lewis Trilogy.
Macmillan
Print/Kindle/iBook
£5
CFL Rating: 4 Stars