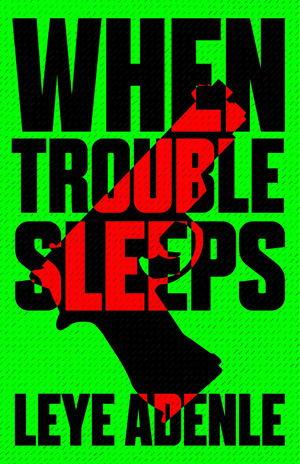 Written by Leye Adenle — In recent years African authors making inroads into the crime genre with what has been labelled Sunshine noir, proving that murder and other dastardly deeds do not only flourish at sub-zero temperatures. South Africa has established itself at the forefront with authors like HJ Golakai and Deon Meyer, but Nigeria might just be catching up. Cassava Republic Press is certainly doing its best to change the way people think about African writing.
Hitherto known mainly for its prize-winning writers of literary fiction, such as Chihua Achebe, Ben Okri, Chimamanda Ngozi Adichie and many others, Nigeria's newer authors have discovered the potential of genre fiction, from fantasy to speculative fiction to crime. Leye Adenle is a prime example of this new tendency. He has had great success particularly in France with his debut crime novel Easy Motion Tourist, describing the underworld of Lagos. In his follow-up to that novel, When Trouble Sleeps, he goes even further in exposing the corruption and political bankruptcy of his home country.
In the first novel, the focus was on Guy Collins, a British journalist visiting Lagos and getting caught up in dangerous events there. In the sequel, Guy only appears off-stage. Instead, we follow the story of the Nigerian woman he befriended, Amaka Mbadiwe. Indomitable, brave to the point of foolhardy and a social activist she is the self-appointed guardian angel to the sex workers of Lagos. In the tumultuous heat and overcrowded Oshodi market, Amaka not only witnesses disturbing incidences of violence but becomes involved in a major political scandal.
An election is coming but the front runner dies in a plane crash. However, the replacement candidate, Chief Ojo, has far too many skeletons in the closet, including visits to a sex club on the outskirts of the city. Ojo wants to keep his sexual predilections secret from his father-in-law, the manipulator and kingmaker Otunba. Otunba wants to make sure that their political rivals find nothing compromising on the new candidate. But Amaka knows and the upshot is that there are several groups of people all eager to hunt her down and silence her.
Sex scandals and human trafficking form just a small part of the plot here, though. What readers will discover above all else are the political shenanigans, drama and corruption, even downright cynicism, that have often characterised Nigerian elections since the return to democratic rule in 1999. Although the book presents a realistic, if depressing picture of contemporary Nigeria, it also sounds a warning bell for other countries. The rival candidate to become governor of Lagos comes from the States and at first he tries to be a man of principle, but soon realises that to have any chance of winning he has to get his hands dirty.
Told at a relentless pace and from a kaleidoscope of different points of view, this is firmly action thriller territory. There is little opportunity to get to know any of the secondary characters in more depth, although there are some hints of complexity in the characterisation of Amaka's friend, the sex worker Naomi. The rapid changes of scene confer a very cinematic quality to the book and veer away just in time from moments which could be too harrowing or graphic. Initially, there is no discernible pattern to the changing points of view, so this does make things a little confusing to follow. However, one of the delights of the book is the way in which the author conveys the speech patterns of the people of Lagos while making it easy for a Western reader to understand the dialogue.
This is an entertaining read and a great insight into what makes Lagos such a throbbing, exciting but also dangerous city to live in.
Read our interview with Leye Adenle here, and discover more Nigerian noir here.
Cassava Republic Press
Print/Kindle/iBook
£8.54
CFL Rating: 4 Stars