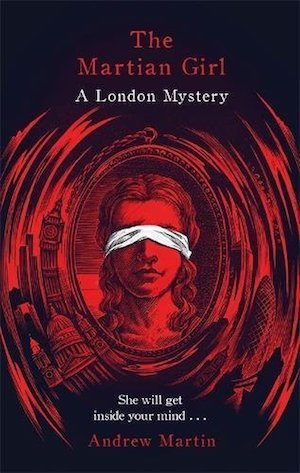 Written by Andrew Martin — What a great title for a crime novel, and with the cover swirling together current and historical London landmarks and a locket holding a photograph of a blindfolded young woman in the middle, perhaps you're getting a good idea where this award-winning author is heading with his latest standalone. Indeed, the themes of mesmerism and blurring identities sit at the heart of this complex and intelligent novel. It's certainly works much better than the seemingly default cover featuring someone vaguely pictured from behind looking into a grey forest, or something similar.
The book begins in the 1980s, now a historical era in its own right. Jean is a freelance journalist and pub DJ in her late 30s. She has been drifting through life and is now somewhat worried about her prospects. Her career is going nowhere and she's involved with a married man. Her answer has been to tap into her creativity, and the result is a one-woman play she is writing about an 1890s musical hall performer billed as The Martian Girl.
Jean has felt strangely drawn to the performer ever since she discovered her. Little is known about Kate French, except that she was considered very striking, and that her middling music hall career only really took off when she joined Joseph Draper's mind-reading act. Draper had a vacancy after his partner left London under mysterious circumstances, and not so long after joining the act, Kate also disappeared…
The man Jean is having an affair with is known only by his surname. Coates is married and has a daughter, and is a barrister currently barred from practice for reasons unknown to Jean. She is ambivalent about their relationship, sensing correctly that it will not pan out but enjoying the validation she gets from his attention.
Unbeknown to Kate, Coates is set on a path to destruction. He lost his job after violently beating another barrister and the civilised façade, which he used to hide his real identity from the rest of the world, is cracking. He is burning through money in a way that his savings can't support either on dates with Jean or by visiting sex workers for sadistic pleasure. He has begun to suspect that Jean's play is perhaps in some way about him, and that he would be better off if she weren't.
His wife, suspicious for a long time about his absences from the family home, recognises something is wrong – though she has no idea how bad things are – and hires a private detective to follow him. Coates notices the surveillance and unravels further, placing everyone in peril.
The Martian Girl is dominated by three voices. Jean, who is sympathetically portrayed, is more resourceful than she gives herself credit for. She also provides the voice of Kate when the present day narrative gives way to readings from her play. Perhaps it is this narrative technique wherein Kate's voice is provided by someone else, or perhaps it's the reader's knowledge that Kate's fate was long since decided, but the process through which she gradually becomes aware of the danger that Draper presents to her is increasingly tense.
Coates is a memorable creation. He is arrogant, and completely without empathy, but is able to mask his deficits in socialised behaviour with his intelligence. His collapse into psychosis is vivid and shocking. Though initially darkly humorous – he comes to think of the voice he hallucinates as Head of Chambers – it quickly becomes frightening.
The Martian Girl takes a little time to get going, but once it hits its stride you won't be able to put it down. It's a clever thrilling read, and Andrew Martin's ability to illuminate his characters through their vocabulary and patter remains as striking as ever. It's a book that demands concentration, but it's well worth the effort.
Earlier this year, critic Barry Forshaw gave us his pick of the best historical crime novels. Meanwhile, we also reviewed Martin's most recent novel, Soot.
Corsair
Print/Kindle/iBook
£7.99
CFL Rating: 4 Stars