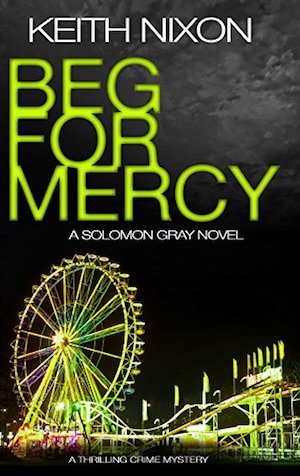 Written by Keith Nixon — Followers of Keith Nixon's Solomon Gray series have had something of a love/hate relationship with the Kent copper. But we're at book three now and Gray has certainly mellowed since that spiky first acquaintance in Dig Two Graves.
Maybe his age has something to do with it or perhaps it's his health. As Beg for Mercy begins Gray is between cancer treatments and not feeling at his best in the aftermath of the most recent round of chemotherapy. He's on his way to Edinburgh in the hope of finally making his peace with daughter Holly, who has never forgiven him for the disappearance of her brother, Tom, or the subsequent suicide of her mother. Gray drags the past with him like an extra piece of carry-on luggage and another piece of his history is about to come back and bite.
Fifteen years ago, a steamy affair between the estranged wife of the local crime boss Duncan Usher and an unidentified married man ended with Valerie Usher dead and her lover frantically covering up all evidence of his identity. It was a police team including the young DC Solomon Gray, his friend and mentor DS Jeff Carslake and their doggedly determined boss DCI Terry Copeland that put the victim's husband away for a crime he didn't commit. Duncan Usher has languished in prison to this day, but new evidence has come to light that proves what he has maintained all along – that he didn't do it. As the reader you know this from the get-go, but what is up for speculation is the identity of the bloke who did the deed.
As Usher is released, two investigators from the Independent Police Complaints Commission move into Margate police station tasked with getting to the bottom of what really happened all those years ago. The original investigative team are all in the spotlight, and as Gray takes a few days off he determines to get to the bottom of what went on back then. His body may be failing him, but his mind is still as sharp as a tack and what he begins to piece together puts some familiar faces into the frame. And, tantalisingly just out of his grasp, there is also a connection with his son Tom's disappearance, something that continues to haunt his every waking hour. Are we about to discover the fate of the young boy who vanished at the fairground?
Keith Nixon skilfully manages to tie up a fair few loose ends as this story progresses, though you'll have your work cut out in following some of the threads as they weave in and out. At the centre of it all is Gray, who is desperately trying to hide his illness from his colleagues while doing some covert investigating that could bring the whole house of cards tumbling down. As we've come to expect from Nixon, there are vividly portrayed settings and crisply rendered characters. In a neat bit of plotting, the final denouement happens back where the shocking first scenes of Dig Two Graves took place, at the famous Dreamland amusement park. Be prepared for everything to resolve in dramatic fashion.
It feels like this author took his foot off the gas a little in Burn the Evidence, Solomon Gray's second outing in print. Thankfully things are back on a steadier course here, making  Beg for Mercy a much more satisfying read.
The recently reviewed Animal Instinct: Human Zoo by Simon Booker also takes place in Kent, or try The Woman in Blue by Ellie Griffiths set up the coast in Norfolk.
Bastei Entertainment
Kindle
£3.79
CLF Rating: 4 Stars